Commentary
This broadside begins: 'An Italian Canzone (of Seventeen hundred Years standing) imitated in braid Scots.' Verse 1 begins: 'In ye meet a bonny Lassie, / Gie her a Kiss and let her gae'. This sheet is initialled 'A.R.' and is completed by patterned woodcut embellishment.
This song was popular at the time and there are other sheets contained within the National Library of Scotland's collection which carry this ballad. Most of these appear to be illustrated, this one included, which would have further increased their market value. Ballad writers were fond of moral lessons and portraying the consequences of unwise actions. This ballad is no exception as it underlines the social consequences of licentious, and good, behaviour of women within their community.
Early ballads were dramatic or humorous narrative songs derived from folk culture that predated printing. Originally perpetuated by word of mouth, many ballads survive because they were recorded on broadsides. Musical notation was rarely printed, as tunes were usually established favourites. The term 'ballad' eventually applied more broadly to any kind of topical or popular verse.

Probable period of publication: 1720-1730 shelfmark: Ry.III.c.36(118)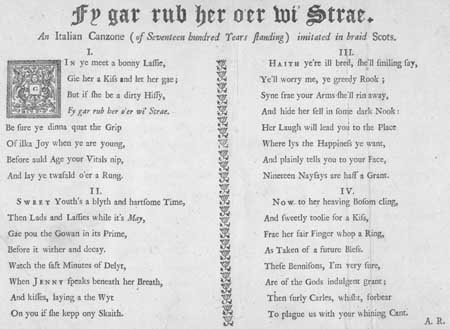 View larger image