Commentary
This ballad begins: 'Come all good People, give an Ear / unto these Lines I've penn'd: / It's of an ancient honest Man, / near Four Score Years and Ten.' A note following the title states that this couple 'were married in Edinburgh, on the 13th of June 1718; their Ages One Hundred and Sixty years', and that the ballad should be sung to the tune, 'The old Woman poor and blind'.
Set in Edinburgh, this romantic ballad describes a marriage between a bridegroom aged 88, and a bride aged 72. After light-heartedly describing the physical decay that accompanies ageing, and the lovers' philosophical and stoical reaction to it, the ballad proceeds to the wedding ceremony of the two elderly lovers. Held at a church in Nidderie's Wynd, the ballad-writer describes the reception as quite a feast and gathering of many people. The ballad concludes on a thoughtful note, by asking young people to be kind, and to wish the old lovers many days together in their new state of married bliss.
Early ballads were dramatic or humorous narrative songs derived from folk culture that predated printing. Originally perpetuated by word of mouth, many ballads survive because they were recorded on broadsides. Musical notation was rarely printed, as tunes were usually established favourites. The term 'ballad' eventually applied more broadly to any kind of topical or popular verse.

Date of publication: 1718 shelfmark: Ry.III.c.36(106)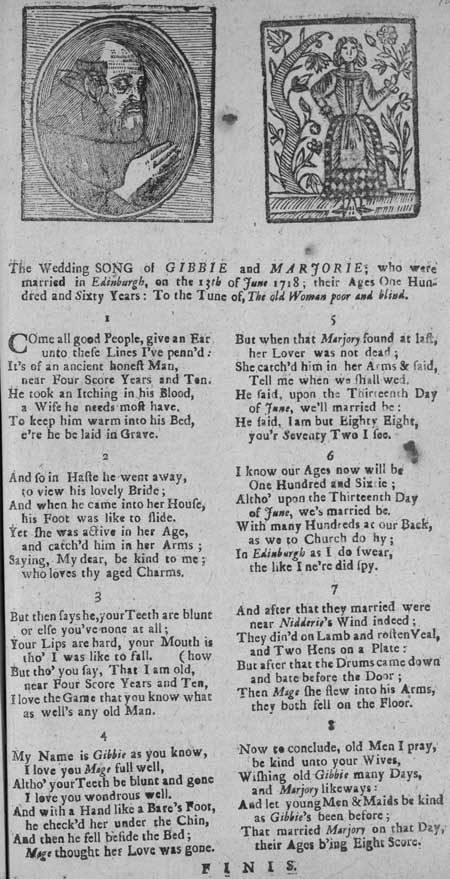 View larger image