Commentary
This ballad begins: 'COME Citizens, and mourne with me a part? / The Righteous Perish, and few't Layt to Heart. / A Faithful Pastor is call'd now to Heaven. / Who was a shinning Light, whilst among Men'. Below the title, it is stated that John Hamilton was 'Minister of the Gospel in the Gray-friars Parish of Edinburgh ; and sometime, formerlie in Ireland'. The publisher is not named and the sheet is not dated.
This ballad is an epic song of mourning to a recently deceased minister, John Hamilton of Greyfriars Church in Edinburgh, who was clearly well-loved by his congregation. It would appear that Hamilton worked tirelessly for God, including a spell spreading the 'true faith' in Ireland. The reference to the 'savage natives' who live in Ireland is interesting. This phrase reveals much about the suspicious attitudes that then existed in Scotland, which was predominantly Protestant, towards a profoundly Catholic country.
Broadsides are single sheets of paper, printed on one side, to be read unfolded. They carried public information such as proclamations as well as ballads and news of the day. Cheaply available, they were sold on the streets by pedlars and chapmen. Broadsides offer a valuable insight into many aspects of the society they were published in, and the National Library of Scotland holds over 250,000 of them.

Probable date published: 1702- shelfmark: Ry.III.c.36(105)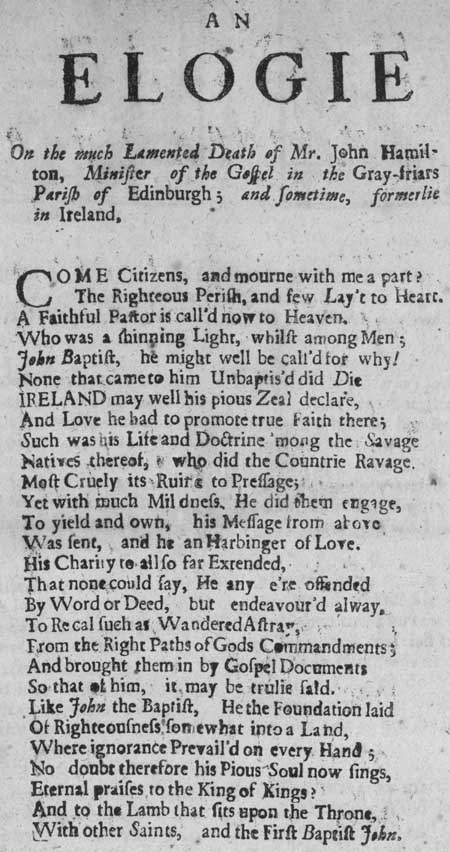 View larger image