Commentary
This ballad begins: 'WHY weeps Melindor in this sullen grove? / Throws by his Crook, forsakes his fleecy Drove, / Brush'd with bleak Winds, and perishing through Cold, / Whilst only proling Wolfs possess the Fold?' Below the title, there is a note stating that this is 'A PASTORAL sacred to the memory of that excellent gentleman, and noble patriot, William Nisbet of Dirleton esq;, who died October 20th, 1724'. After this note, there is a Latin quotation from one of Horace's works.
Employing a famous character from the classical myths, this erudite ballad contains a series of dialogues between the beautiful - but doomed - Adonis and an obscure nymph called Melindor. The alternating verses between these two characters contain many references to other characters from classical mythology, as they discuss the state of the world and nature. The ballad is dedicated to the memory of William Nisbet (or Nesbit), who belonged to the famous legal family who lived in the village of Dirleton, just outside Edinburgh.
Broadsides are single sheets of paper, printed on one side, to be read unfolded. They carried public information such as proclamations as well as ballads and news of the day. Cheaply available, they were sold on the streets by pedlars and chapmen. Broadsides offer a valuable insight into many aspects of the society they were published in, and the National Library of Scotland holds over 250,000 of them.

Date of publication: 1724 shelfmark: Ry.III.c.36(099)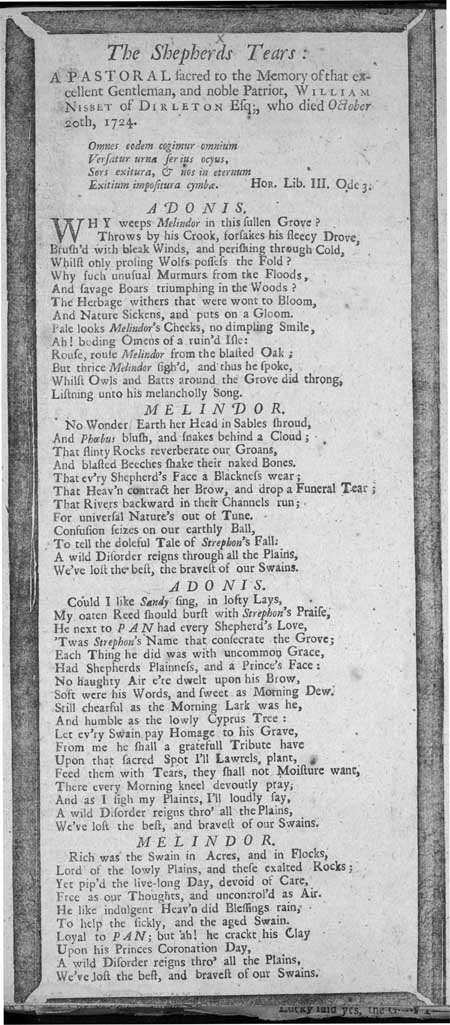 View larger image