Commentary
This ballad begins: 'Who can Sufficiently approve, / Of the Fam'd Doctor's Wit and Love, / Who sometime e're his former wife, / To Death resign'd had her Life . . . ' 'Tincklarian' means 'tinker-like'.
This bawdy and light-hearted ballad describes the colourful social life led by the tinker doctor, William Mitchel. The adjective, 'Tincklarian', suggests that the doctor was probably a quack doctor, who sold potions and snake-oil medicines to unwary members of the public. It appears that the doctor was quite a ladies' man, and often entertained them at a location called the 'Bon-Head', most likely a public house. His existence as a single man-about-town ended, however, when Ann Stewart entered his life, and this momentous meeting eventually ended in the marriage of the ballad's title.
Broadsides are single sheets of paper, printed on one side, to be read unfolded. They carried public information such as proclamations as well as ballads and news of the day. Cheaply available, they were sold on the streets by pedlars and chapmen. Broadsides offer a valuable insight into many aspects of the society they were published in, and the National Library of Scotland holds over 250,000 of them.

Date of publication: 1717 shelfmark: Ry.III.c.36(088)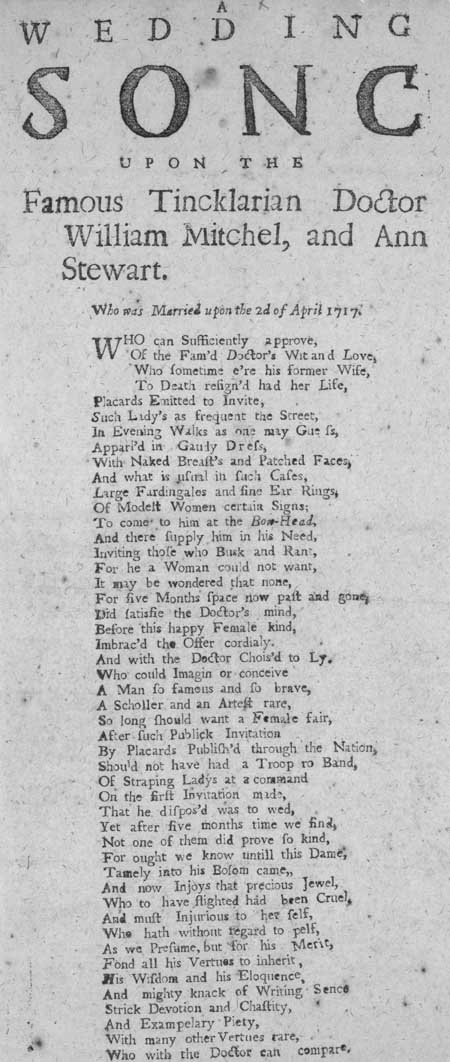 View larger image