Commentary
This lamentation begins: 'The Tnicklarian Doctor's Lamentation For the Absence of his Majesty King George, and the old Antient Parliament'. 'Tincklarian' or 'tinclarian' is a Scots word meaning 'tinker-like'. A note at the bottom of the sheet reads: 'Edinburgh, Printed for the author R.S, and to be Sold at his Dwelling-House at the head of the College-Wynd'.
Unfortunately, a date has not been included on this particular broadside. The doctor's lamentation, however, is most likely directed towards the protestant ruler, King George I (r. 1714-27). The first Hanoverian king, he was criticised by the British people for not learning English and for his apparent allegiances to Hanover over Britain. The author of this piece suggests that if the King visited Scotland, his presence would be rewarded with the loyalty of the people. This was a direct criticism of the King's system of governing, whereby the administration of the British Isles was left in the hands of his government.
Broadsides are single sheets of paper, printed on one side, to be read unfolded. They carried public information such as proclamations as well as ballads and news of the day. Cheaply available, they were sold on the streets by pedlars and chapmen. Broadsides offer a valuable insight into many aspects of the society they were published in, and the National Library of Scotland holds over 250,000 of them.

Probable date published: 1714-1727 shelfmark: Ry.III.c.36(083)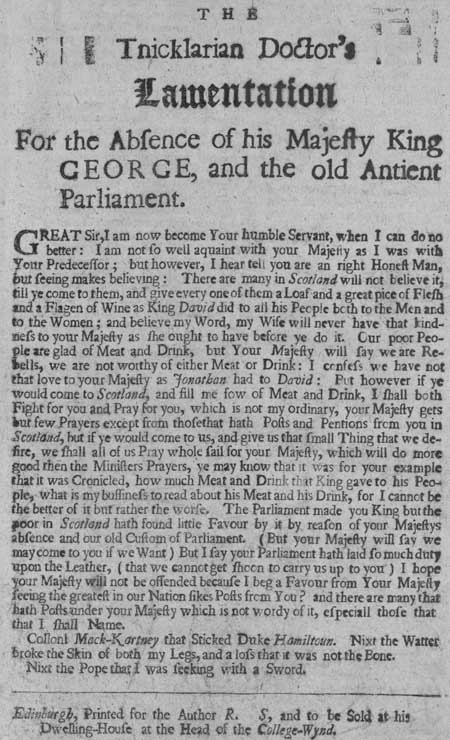 View larger image