Commentary
This broadside begins: 'An Account of a wonderful Prodigy seen in the Air, on Tuesday the 15th Day of this Instant May, 1722, by John Moor, at Crawfords-dyke, near Greenock.' Unfortunately, but not unusually, the publisher's name has not been included on this broadside.
It is possible the spectacle viewed by Moor was in fact the northern lights (aurora borealis). He begins by describing it as a broad rainbow in the sky, only to conclude that it appeared as 'two Armies fighting and attacking, retiring and advancing alternatively very often'. In a highly superstitious age, natural phenomena such as lightning, hailstones and the northern lights were often regarded with suspicion and mistaken for supernatural occurrences.
Broadsides are single sheets of paper, printed on one side, to be read unfolded. They carried public information such as proclamations as well as ballads and news of the day. Cheaply available, they were sold on the streets by pedlars and chapmen. Broadsides offer a valuable insight into many aspects of the society they were published in, and the National Library of Scotland holds over 250,000 of them.

Probable date published: 1722 shelfmark: Ry.III.c.36(080)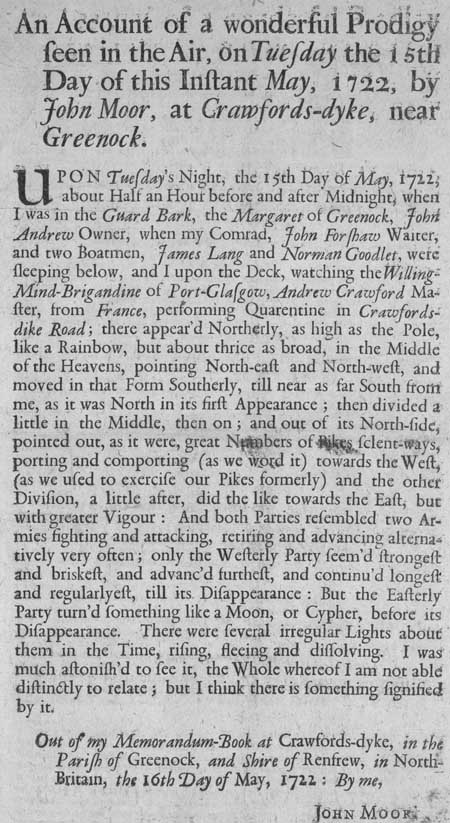 View larger image