Commentary
This crime report begins: 'A / Faithful NARRATIVE / OF / The Circumstances of the Cruelty committed upon the Body of John Halden in the Abbay of Holy-Rood-House, on Tuesday the 7th of April Instant, who died the next day.' No further dates are given and there is no publisher's name included.
This narrative is very revealing about the Scotland John Halden lived in. John travels from Hamilton across the country to Edinburgh looking for work because of poverty. He then calls at the Duke of Hamilton's residence expecting patronage. He calls at the back door for scraps and he is met by the Earl of Rutherglen's coachman and the butler, who bangs Halden's head of a column. Surgeon's eventually donate their services and when Halden is pronounced dead they saw his head open - presumably because there was no family to protect the body.
Reports recounting dark and salacious deeds were popular with the public, and, like today's sensationalist tabloids, sold in large numbers. Crimes could generate sequences of sheets covering descriptive accounts, court proceedings, last words, lamentations and executions as they occurred. As competition was fierce, immediacy was paramount, and these occasions provided an opportunity for printers and patterers to maximise sales.

Probable date published: 1724- shelfmark: Ry.III.c.36(077)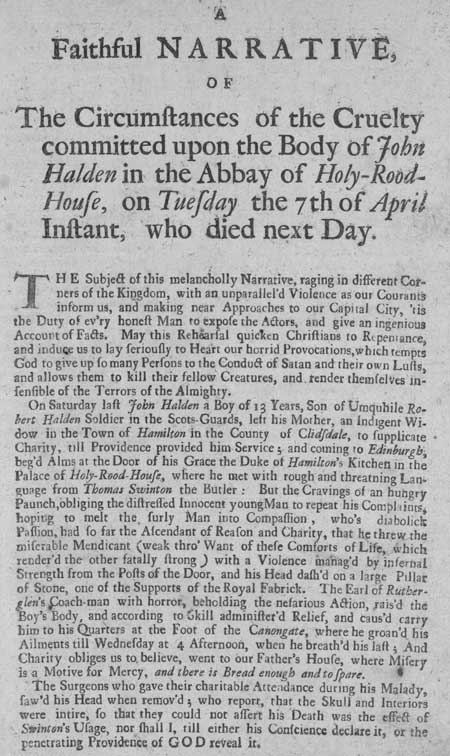 View larger image