Commentary
This execution notice begins: 'THE LAST / SPEECH / AND / DYING WORDS/ Of Janet Hutchie, who was execute in the Grass-market of Edinburgh, upon the 30th of August 1721, for the Murder of her own Child.' This sheet stops mid-sentence suggesting there was more of the speech on another sheet.
Janet Hutchie confessed to the desire to kill her illegitimate child, although she claims it died very soon after being born, and then hiding the body in her trunk. This is an enlightening glimpse into the moral attitudes of the 1720s. Original sin, apportionment of guilt and divine judgement are all touched on. Some society attitudes are also revealed - the child is never named nor a sex given; Janet talks about virtue, married relations and abortion.
Reports recounting dark and salacious deeds were popular with the public, and, like today's sensationalist tabloids, sold in large numbers. Crimes could generate sequences of sheets covering descriptive accounts, court proceedings, last words, lamentations and executions as they occurred. As competition was fierce, immediacy was paramount, and these occasions provided an opportunity for printers and patterers to maximise sales.

Date of publication: 1721 shelfmark: Ry.III.c.36(075)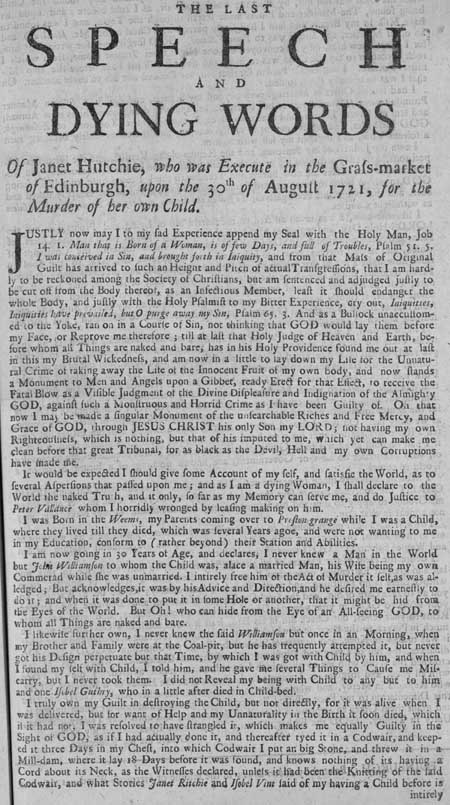 View larger image