Commentary
This execution notice begins: 'THE LAST / SPEECH AND DYING WORDS, / Of John Stewart, who was executed within the Flood-Mark at Leith, upon the 4th January 1721, for the Crime of Piracy and Robbery.' This sheet was published in Edinburgh, in 1727, by Robert Brown of Forrester's Wynd.
Although no dates are given for Robert Brown, he did operate a printing house between 1713 and 1733 in the Forrester's Wynd area of Edinburgh. He seems to have produced mainly chapbooks and broadsides, especially on executions. Brown also produced children's books, which were another common sideline in smaller printing houses. The one fixed date is his marriage to Isobel Donaldson on the 25th October 1710. Isobel was of a merchant-burgess family, showing how business was transacted amongst mercantile families.
Reports recounting dark and salacious deeds were popular with the public, and, like today's sensationalist tabloids, sold in large numbers. Crimes could generate sequences of sheets covering descriptive accounts, court proceedings, last words, lamentations and executions as they occurred. As competition was fierce, immediacy was paramount, and these occasions provided an opportunity for printers and patterers to maximise sales.

Date of publication: 1721 shelfmark: Ry.III.c.36(074)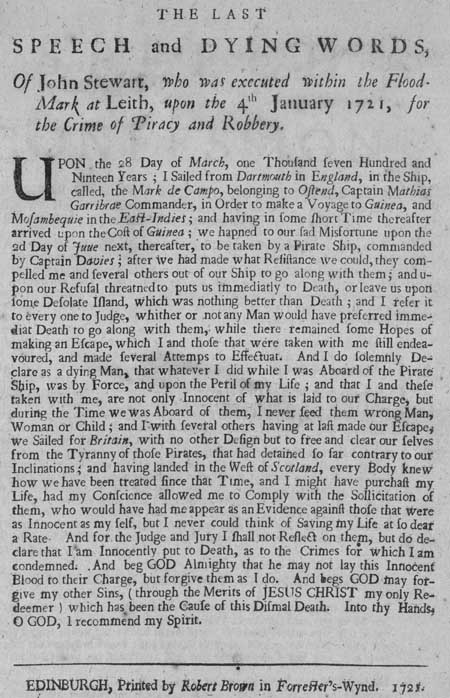 View larger image