Commentary
Below the title we are told that this broadside is 'An EPISTLE to the Umquhile John Cowper late Kirk-Treasurer's man of Edinburgh ; now his Ghaist studying Poetry at Oxford, for the Benefit of Ethert Curl'. The first line of the ballad reads, 'DEAR John, what ails ye now? ly still'.
This light-hearted ballad was written in response to an audacious ballad penned by John Couper of Oxford, in which he lambasted Scottish culture in general, and the bagpipes in particular. It appears that once Couper arrived in Oxford, he started writing about the inferior quality of Scottish poetry in comparison to English poetry. In this erudite reply, however, Pate Birnie, a famous Scottish musician, waspishly suggests that English writers such as Dryden, Stanhope and Rosecommon are little more than Grub Street hacks. Located in Milton Street, Moorfields, London, Grub Street was infamous as a place where shabby writers mixed with impoverished booksellers' hacks.
Broadsides are single sheets of paper, printed on one side, to be read unfolded. They carried public information such as proclamations as well as ballads and news of the day. Cheaply available, they were sold on the streets by pedlars and chapmen. Broadsides offer a valuable insight into many aspects of the society they were published in, and the National Library of Scotland holds over 250,000 of them.

Date of publication: 1720 shelfmark: Ry.III.c.36(072)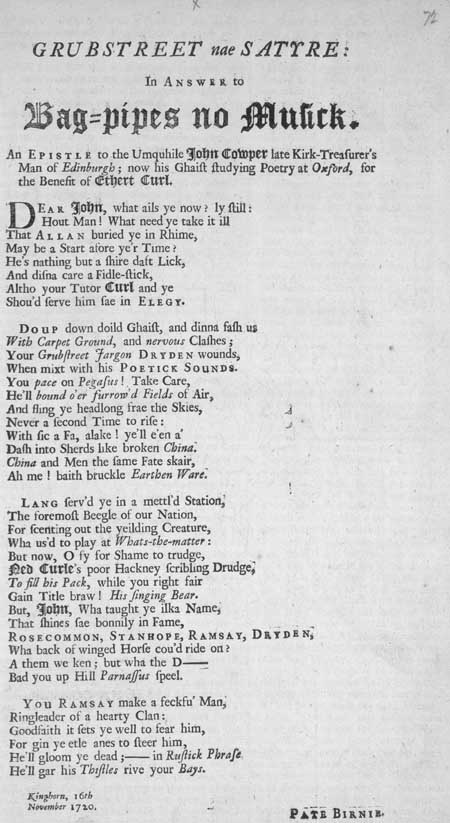 View larger image