Commentary
The title reads: 'Elegy / ON THE / Death of Nicol Muschet of Boghall / Written, at the Desire of his Friends'. The elegy begins: 'The highest Pitch of Sorrow swells my Heart, / And dictates Words, without the Strokes of Art: / In moving Notes, cloath'd with a natural Rhyme, / I'll sing his Suff'rings, and his impious Crime'. No publication details are given.
Nicol Muschet or Mushett, Laird of Boghall, killed his wife, Margaret Hall, in October 1721, and was hanged at Edinburgh's Grassmarket in the same year. This poem tells the story of Muschet's demise and of his eventual repentance before God, serving as a warning to others not to take 'polluted Paths, which lead t'eternal fire'. The National Library of Scotland holds other broadsides relating to this case.
Broadsides are single sheets of paper, printed on one side, to be read unfolded. They carried public information such as proclamations as well as ballads and news of the day. Cheaply available, they were sold on the streets by pedlars and chapmen. Broadsides offer a valuable insight into many aspects of the society they were published in, and the National Library of Scotland holds over 250,000 of them.

Date of publication: 1721 shelfmark: Ry.III.c.36(055)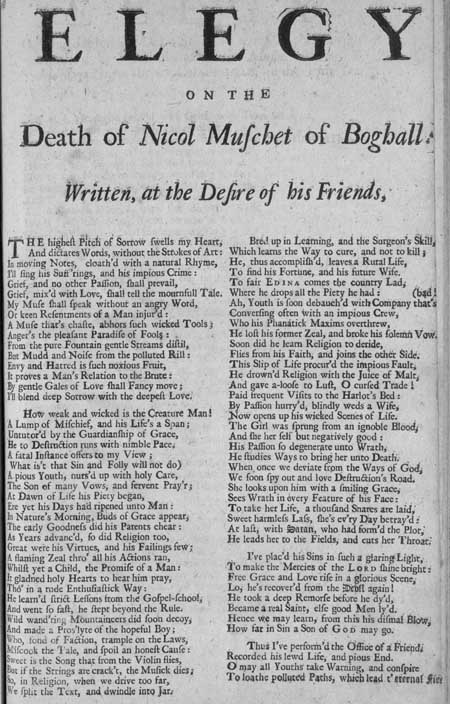 View larger image