Commentary
This murder report begins: 'AN ACCOUNT OF A Horriod and Bloody Mnrder, committed in Kellso, by William Bolamgall, Shoe-Maker in Kellso. Upon Sir John Hay, Quarter-master to the Royal Gray's, and Andrew Gray, his Father's Apprentce, and Jannet Stewart their Servant Maid.' This broadside was printed in Edinburgh in 1720.
The murders committed by William Bolamgall appear to have been motiveless. All three victims were living under the same roof as Bolamgall - that of his father. In this broadside his murderous behaviour is blamed on the devil, 'and the Devil who had thus Prompt him to act the first Wickedness, Temps him to a Second'. It is also suggested that it was only through 'GOD'S Providence' that the entire household was not murdered. In the eighteenth century, Scotland was a highly religious society in which people's lives were dominated by the Church. This is very much reflected in the street literature of the time.
Reports recounting dark and salacious deeds were popular with the public, and, like today's sensationalist tabloids, sold in large numbers. Crimes could generate sequences of sheets covering descriptive accounts, court proceedings, last words, lamentations and executions as they occurred. As competition was fierce, immediacy was paramount, and these occasions provided an opportunity for printers and patterers to maximise sales.

Date of publication: 1720 shelfmark: Ry.III.c.36(051)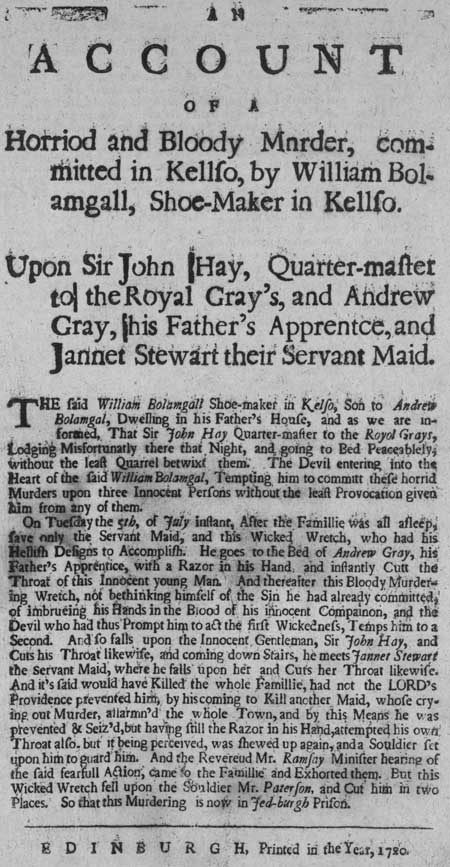 View larger image