Commentary
This execution notice begins: 'THE LAST / SPEECH AND CONFESSION / OF / Thomas Bean, one of those Executed for the late Riot in Salisbury Court at London.' This sheet was originally printed in London and went on to be reprinted in Edinburgh.
Broadsides were often used to challenge political beliefs. Expressing an unpopular or contrary opinion in this format was not only safe, as they were largely anonymous, but they also reached a wide and varied audience, cheaply and quickly. This story's appeal lies in its immediacy and gravity. As a result very little factual information has been included - the reader already having topical knowledge, supposedly - and so it does now become quite a frustrating source to use. From other broadsides in the National Library of Scotland's collection, it can be assumed that Bean was involved in a riot in favour of the Old Pretender, James Edward Stuart in May 1716.
Broadsides are single sheets of paper, printed on one side, to be read unfolded. They carried public information such as proclamations as well as ballads and news of the day. Cheaply available, they were sold on the streets by pedlars and chapmen. Broadsides offer a valuable insight into many aspects of the society they were published in, and the National Library of Scotland holds over 250,000 of them.

Probable date published: 1716 shelfmark: Ry.III.c.36(039)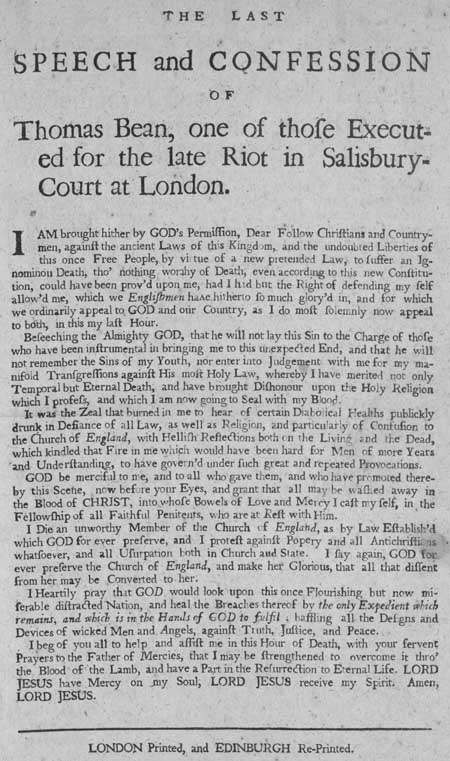 View larger image