Commentary
This crime report begins: '[Dubline May 17th 1717.] / A Full and True / ACCOUNT / OF / A most Horrid, Barbarous, and Bloody / MURTHER / Committed by Owen Brady a Porter, Living in White Fryer's Lane, who most babarously Murther'd his own two Children, this present Friday being May the 17th, 1717.' This sheet was printed in Dublin, and reprinted in Edinburgh at the foot of Horse Wynd.
Society at this time believed the Devil influenced their daily lives and as a result his work is emphasised here. This belief was eventually championed by James VI and I of Great Britain (1566-1625), himself. He wrote various tracts on the Devil and witchcraft and suffered from the misapprehension that witches were trying to assassinate him. With these ideas filtering from the top, down, and such high profile support, society found it easy to believe in the power of the Devil.
Reports recounting dark and salacious deeds were popular with the public, and, like today's sensationalist tabloids, sold in large numbers. Crimes could generate sequences of sheets covering descriptive accounts, court proceedings, last words, lamentations and executions as they occurred. As competition was fierce, immediacy was paramount, and these occasions provided an opportunity for printers and patterers to maximise sales.

Date of publication: 1717 shelfmark: Ry.III.c.36(034i)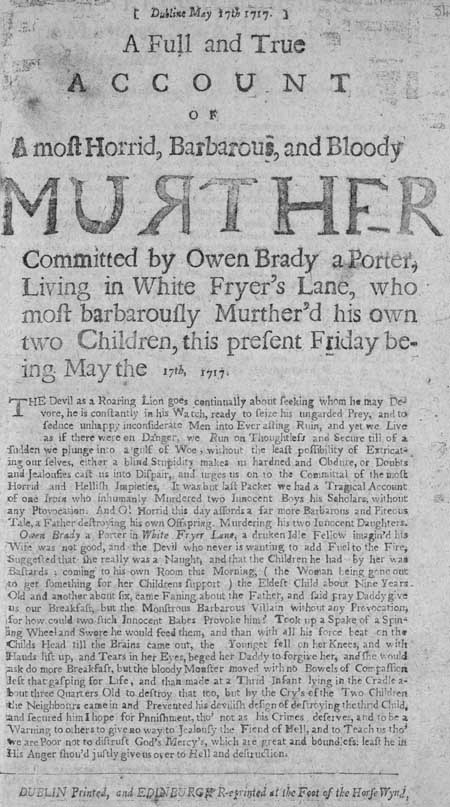 View larger image