Commentary
This execution speech begins: 'THE / Last Speech / of / COLL OXBURGH, / Who was executed at TYBURN MAY 14th, 1716. / Delivered by him to the Sheriffs, and Printed at LONDON by their Order.' This sheet was published by William Adams Junior in 1716.
The term 're-printed' is mentioned in the details along the bottom. Often stories were copied from printer to printer, both to save time and money, or plates were reused if the case was ongoing to make the most of the typesetting. This one was 'folded' at the printing house opposite the Tron Church. Different parts of the process were carried out by different trades and often the distributor was separate again. Finally, Adams is known to have been imprisoned for printing texts disparaging the established church - a political forum was another broadside role. Henry Oxburgh was one of a group of prominent Jacobites executed at Tyburn for their part in the rebellion of the previous year.
Reports recounting dark and salacious deeds were popular with the public, and, like today's sensationalist tabloids, sold in large numbers. Crimes could generate sequences of sheets covering descriptive accounts, court proceedings, last words, lamentations and executions as they occurred. As competition was fierce, immediacy was paramount, and these occasions provided an opportunity for printers and patterers to maximise sales.

Date of publication: 1716 shelfmark: Ry.III.c.36(034b)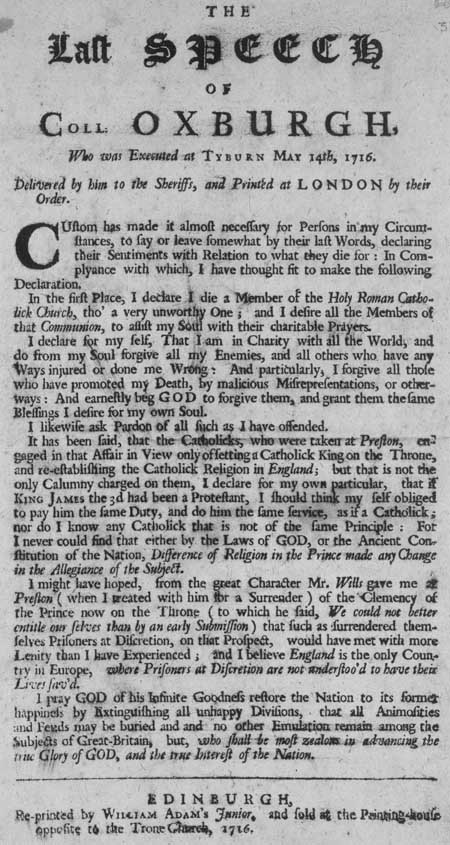 View larger image