Commentary
This execution notice begins: 'THE LAST / SPEECH / AND / CONFESSION / OF / Anne Fogget, Burnt for the Murder of her Husband Abraham Fogget / Who was Executed at York September 10 1716.' This sheet was published by Margaret Reid of Edinburgh.
Whilst many aspects of this document are historically noteworthy, two are worth mentioning. This sheet was published by a woman - Margaret Reid. She succeeded to her father's tools and trade upon his death and was a prolific chapbook producer. Also, the murder of a husband by his wife was considered 'petty treason' and women were burnt instead of hung for this to preserve their modesty. They were, however, normally strangled before the flames reached them.
Reports recounting dark and salacious deeds were popular with the public, and, like today's sensationalist tabloids, sold in large numbers. Crimes could generate sequences of sheets covering descriptive accounts, court proceedings, last words, lamentations and executions as they occurred. As competition was fierce, immediacy was paramount, and these occasions provided an opportunity for printers and patterers to maximise sales.

Date of publication: 1716 shelfmark: Ry.III.c.36(025)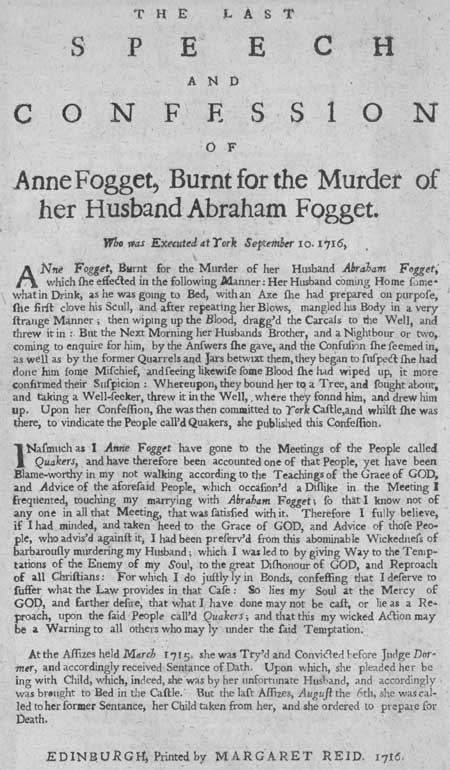 View larger image