Commentary
This crime report begins: 'We have the following Account of a horrid Murder committed by Pirates on the Coast of Ireland, and how they threw the Crew over board.' Four pirates, three named John Eustace or Philip Roch, Richard Neale and Francis Wise, seized a French vessel, mastered by Peter Tartoue, on the voyage from Cork, Ireland to Nantes, France.
The waters around Ireland were notorious for piracy during the eighteenth and nineteenth centuries. Ireland reared the most famous pirate of them all 'Blackbeard', who was actually born Sean McDermott in 1656. It is now believed that, during this period, roughly 87% of Irish boys were involved in piratical activities by the age of seven. Two of the men, Richard Neale and Francis Wise, had returned to Ireland before they were arrested, suggesting Irish connections. John Eustace or Philip Roch, however, is mentioned as having received a letter from his wife, suggesting that they lived, geographically, apart.
Reports recounting dark and salacious deeds were popular with the public, and, like today's sensationalist tabloids, sold in large numbers. Crimes could generate sequences of sheets covering descriptive accounts, court proceedings, last words, lamentations and executions as they occurred. As competition was fierce, immediacy was paramount, and these occasions provided an opportunity for printers and patterers to maximise sales.

Probable date published: 1725 shelfmark: Ry.III.c.36(014)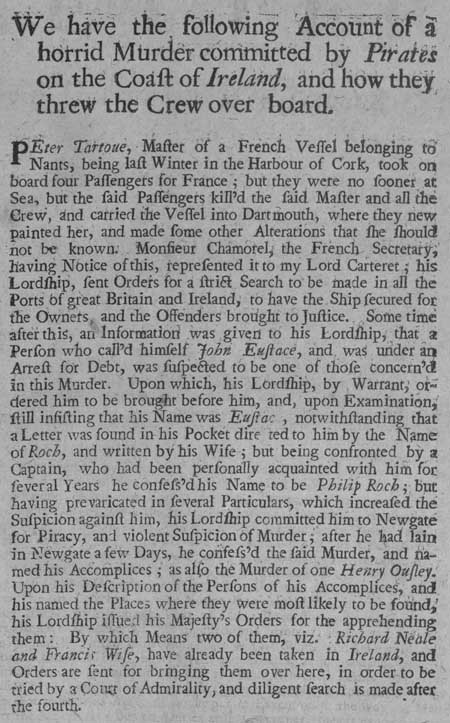 View larger image