Commentary
This broadside begins: 'ELEGIE / On the never enough to be Lamented Cruel Death, of the most Hopeful and Gallant Young Gentleman, Mr. William Rue, of Chesters, who was Barbarously Murdered by George Ballantine Younger of Craigmore, Musgrave Mackgie, Brother to the Laird of Balmagie, and William Hamilton, Eldest Son to Bailie Hamilton in Abbay of Holy-Rood-House. In Febr 1710. With Brief Description of his Penitentials.' The elegy begins: 'O Fatal Death! Thou many Methods take, / Poor Man to Kill, and Mortal Hearts still breaks'.
Also included on this sheet is a short verse detailing the 'Huy and Cry after the Murderers of William Rue'. It begins: 'There is George Ballantine, the Young Laird of Craigmuir / Chief Murderer, who thinks himself secure'. Unfortunately there is no information included regarding the author or publisher.
This elegy follows a familiar pattern found in many broadsides of the day. It details the tragic murder of a god-fearing and morally-upstanding young man. His piety is considered exemplary and is intended to serve as a lesson to the readership. It is possible that this broadside was one of a sequence detailing the incidents surrounding the death of Rue. It appears, from the final verse, that whilst the identities of the murderers were known, they had yet to be apprehended.

Date of publication: 1710 shelfmark: Ry.III.c.36(012)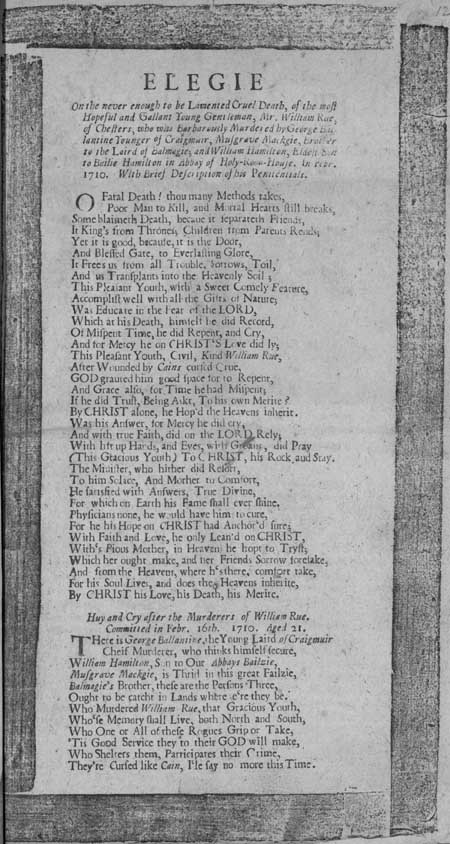 View larger image