Commentary
This memorial notice begins: 'An Elegy On the Death of that Illustrious Monarch William the Third, Late King of Scotland, England, France, and Ireland, who departed this Life at His Palace at Kensington, on Sunday the 8th Day of March, 1702 in the 52 Year of His Age, 4 Months and 5 Days; And the 14th Year of His Reign.' The elegy begins: 'Alas! 'tis so ; No virtue can withstand / The pale-fac'd Conquerors all-subjecting hand'. The elegy was written by the Reverend Dr Burnet.
An epitaph has also been included at the bottom of this sheet. It begins: 'HERE underneath this tomb doth WILLIAM lie, / The Bravest Monarch that on earth cou'd Dye'. This particular broadside was published in 1702 by the Edinburgh-based 'Heirs and Successors of Andrew Anderson, Printer to the Queen's Most Excellent Majesty'.
King William III (r. 1689-1702), also known as William of Orange, was joint sovereign of Great Britain along with his wife Queen Mary II, daughter of King James II. Following the overthrow of James II during the Glorious Revolution (1688), when opponents of the King's pro-Catholic and absolutist policies forced him to flee to France, William and Mary, both Protestants, were established on the throne. William is perhaps best remembered for defeating James II at the Battle of the Boyne in 1690.

Date published: 1702 shelfmark: Ry.III.c.36(007)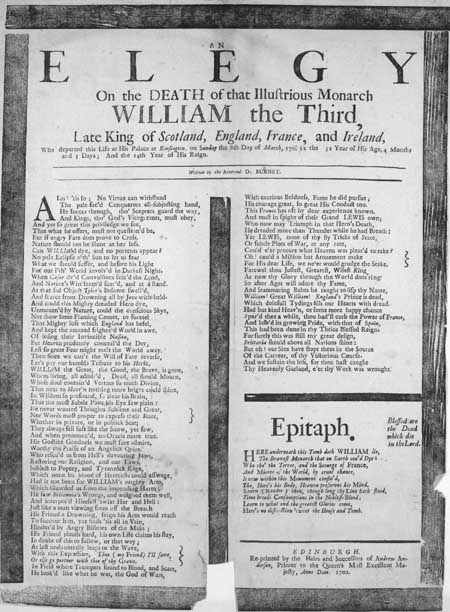 View larger image