Commentary
This memorial notice begins: 'Elegie On the Much to be Lamented Death of the Right Honourable, Alexander Lord Reath, One of His Majesties Most Honourable Privy Council, and Exchequer, &c. Departed this Life, March 21 1698.' The elegy begins: 'It seems the Heavens begins to frown, the World draws near an end / When Wisdom drops down to the Grave, that did this Land defend'.
Whilst Alexander, Lord Reath appears to have been a highly respected and prominent figure during his lifetime, his name has been somewhat forgotten with the passing of years. It is apparent from this elegy mourning Reath's death that he served king and country well, and was eventually awarded the honour of 'Hye Keeper of SCOTLAND'. Although little is known of Reath himself, it can be said with surety that he lived during troubled times. With the Union of the Crowns in 1603, the seventeenth century was a time of great religious and political upheaval.
Broadsides are single sheets of paper, printed on one side, to be read unfolded. They carried public information such as proclamations as well as ballads and news of the day. Cheaply available, they were sold on the streets by pedlars and chapmen. Broadsides offer a valuable insight into many aspects of the society they were published in, and the National Library of Scotland holds over 250,000 of them.

Probable date published: 1698 shelfmark: Ry.III.c.36(005)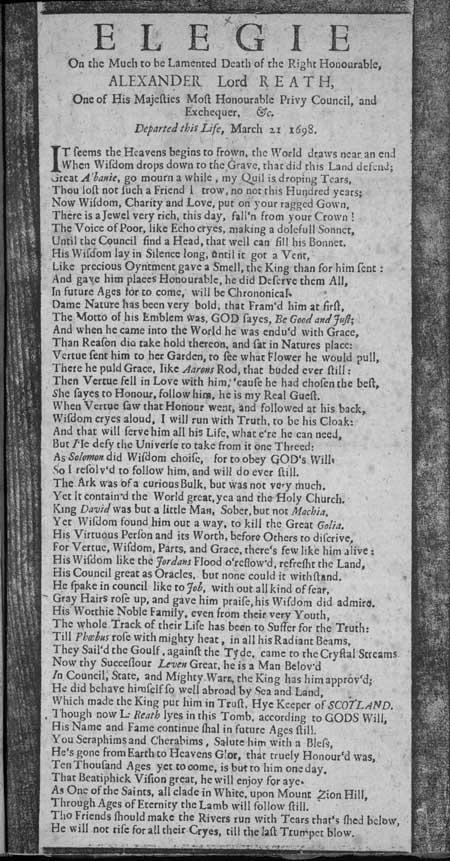 View larger image