Commentary
This memorial notice begins: 'ELEGIE on the Much to be Lamented Death, and Loss of the Right HONOURABLE WILLIAM EARL of CRAWFOORD, and Lord LINDSAY, &c. And One of His Majesties Most Honourable Privy Council, &c. Departed this Life, March 6th. 1698.' The elegy which follows begins: 'You Noble Lords lay by yor Robes, Come Mourn a while with me, / For good Lord Crawfoord that is gone into Eternitie! ' Althought the publication date of the broadside is not given, it is likely to have been shortly after the death of the subject on March 6th, 1698.
The subject of this elegy, William Lindsay (1644-98), was the 18th Earl of Crawford. He was also the second Earl of Lindsay, the title having been created for his father John (c.1598-1678) in 1633. The Lindsays of Crawford had been influential in Scottish politics and society since the 12th century, and during the civil wars of the 17th century John Lindsay wavered between supporting the Covenanters and the Royalists. William Lindsay consistently supported the Covenanters, and this benefited him when James II was deposed and William and Mary became monarchs. In the elegy, William is described as 'a Pillar of the Church, Supporter of the Crown'.
Broadsides are single sheets of paper, printed on one side, to be read unfolded. They carried public information such as proclamations as well as ballads and news of the day. Cheaply available, they were sold on the streets by pedlars and chapmen. Broadsides offer a valuable insight into many aspects of the society they were published in, and the National Library of Scotland holds over 250,000 of them.

Date of publication: 1698 shelfmark: Ry.III.c.36(003)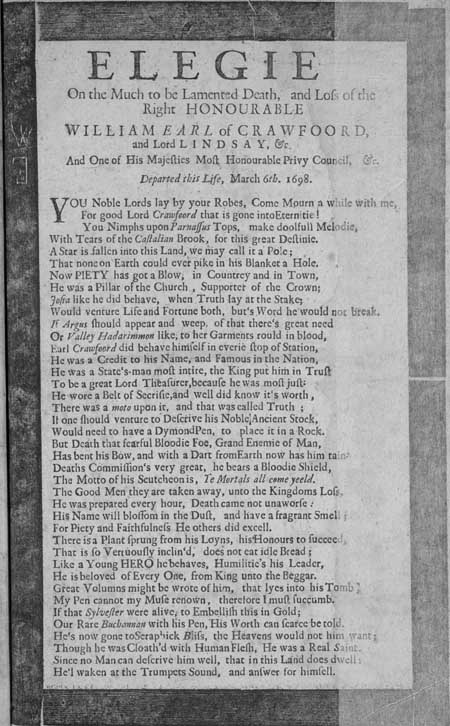 View larger image