Commentary
Verse 1: 'Come, ye Electors, ane an' a', / Baith rich an' poor, and great an' sma', / And welcome hame wi' great ec'at / Your weel-kent friend, Frank Jeffrey.' This ballad was to be sung to the tune 'Whistle o'er the Lave o't'. The broadside was published by Sanderson of 243 High Street, Edinburgh.
Francis Jeffrey (1773-1850) a lawyer by vocation, was also an active Whig politician, socialite and and founder of the 'Edinburgh Review', a hugely successful quarterly magazine. Jeffrey was the manager of the Parliamentary Reform Bill for Scotland, and this ballad praises his support for the Bill and urges its audience to vote for Jeffrey in the forthcoming General Election. Jeffrey was returned as Member of Parliament for Edinburgh in December 1832, six months after the Reform Bill was passed. Without the passing of the Bill, many of Jeffrey's supporters may not have been entitled to vote.
Broadsides are single sheets of paper, printed on one side, to be read unfolded. They carried public information such as proclamations as well as ballads and news of the day. Cheaply available, they were sold on the streets by pedlars and chapmen. Broadsides offer a valuable insight into many aspects of the society they were published in, and the National Library of Scotland holds over 250,000 of them.

Probable date published: 1832 shelfmark: ABS.10.203.01(065)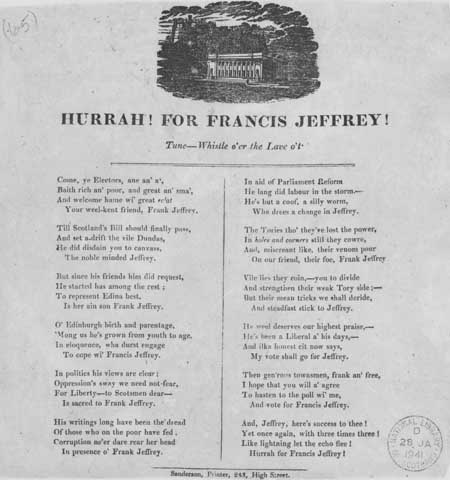 View larger image