Commentary
The first verse reads: 'Ye envious Critics, try an' guess my name : / Thousands of times ye've seen an' heard the same : / Millions of times ye've given me offence, / But I must say, it's for the want of sense.' It was published by William Smith of 3 Bristo Port, Edinburgh, and includes an elaborate illustration of a showman surrounded by interested onlookers.
Although there is no publication date on this broadside, it is known that William Smith resided at 3 Bristo Port between 1824 and 1829. He was also working from premises at 47 Crosscauseway, Edinburgh, around this time, which suggests that 'business was booming'. Although he produced a wide range of broadsides and chapbooks on different subjects, Smith is best remembered for his instruction booklets and works of a humorous nature. The person in the centre of the illustration is Daft Jamie, (James Wilson) who is referred to in the text. Jamie was a well-known character in Edinburgh, who entertained local children with riddles and jokes. Jamie, who was just 18 years old, was murdered by Burke and Hare in October 1828.
Broadsides are single sheets of paper, printed on one side, to be read unfolded. They carried public information such as proclamations as well as ballads and news of the day. Cheaply available, they were sold on the streets by pedlars and chapmen. Broadsides offer a valuable insight into many aspects of the society they were published in, and the National Library of Scotland holds over 250,000 of them.

Likely date of publication: 1824-1828 shelfmark: L.C.Fol.74(315)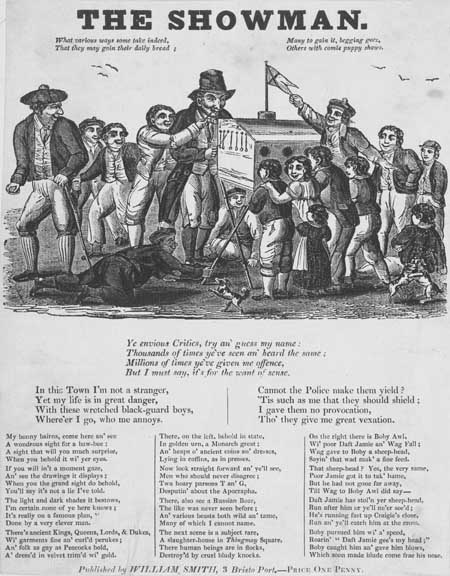 View larger image