Commentary
This sheet begins: 'An Account of the Life and Death of MISS ELIZABETH WATSON, a Gentleman's Daughter, who was betrayed and seduced by a young Gentleman; she became pregnant to him -- his love soon turned to hatred . . . She was then reduced to poverty . . . and on Monday last, was found in a most deplorable condition, lying dead in a byre near mid Calder, together with a copy of an interesting Letter, and also a Copy of Verses . . . in her own hand writing.' This sheet was published by Francis McCartney.
There follows a copy of the letter supposedly found on Miss Watson, and of the verses she apparently wrote. In the letter she bemoans the loss of 'the brightest gem of the female character', her virginity, and expresses sadness and shame over her pregnancy. The verses are reasonably well-composed, although should not be taken as being Miss Watson's. Broadside publishers were not averse to fabricating last words, confessions and other personal statements, if it meant it would sell more copies.
Broadsides, cheap and accessible, were often used as moral forums with 'lessons of life' included in the narrative. Broadside authors tended to see themselves as moral guardians and teachers in society. As such, publishers often disseminated 'educational' texts outlining the social and personal consequences of undisciplined or immoral behaviour.

Probable period of publication: 1830-1839 shelfmark: L.C.Fol.74(187)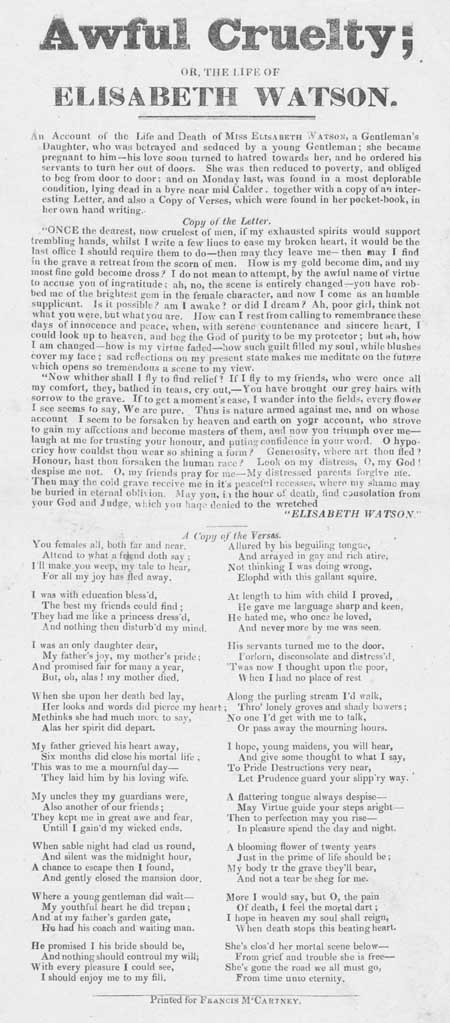 View larger image