Commentary
This crime report begins: 'Or an account of that Cruel and Inhuman Murder which was committed on the body of MARY JOHNSTON, a young Servant Girl, near Blackburn, on Friday last July 4th, 1823, by JOHN WATSON, Cotton-spinner, in the same place, who pretended to be Sweetheart. Also, a copy of the Letter sent by him in order to decoy her to the place where he committed the horrid deed, with this young woman's answer.' This sheet was printed for John Thom of Edinburgh and sold for the price of a penny a sheet.
Due to the wide audience which was reached by broadsides they were often used as forums for moralisation. The vast amount of detail and the stilted and formal nature of the letters suggest that some of the information here should be treated with a pinch of salt. The innocent nature of the victim and dreadful predicament would have made compulsive reading, no doubt!
Reports recounting dark and salacious deeds were popular with the public, and, like today's sensationalist tabloids, sold in large numbers. Crimes could generate sequences of sheets covering descriptive accounts, court proceedings, last words, lamentations and executions as they occurred. As competition was fierce, immediacy was paramount, and these occasions provided an opportunity for printers and patterers to maximise sales.

Date of publication: 1823 shelfmark: Ry.III.a.2(42)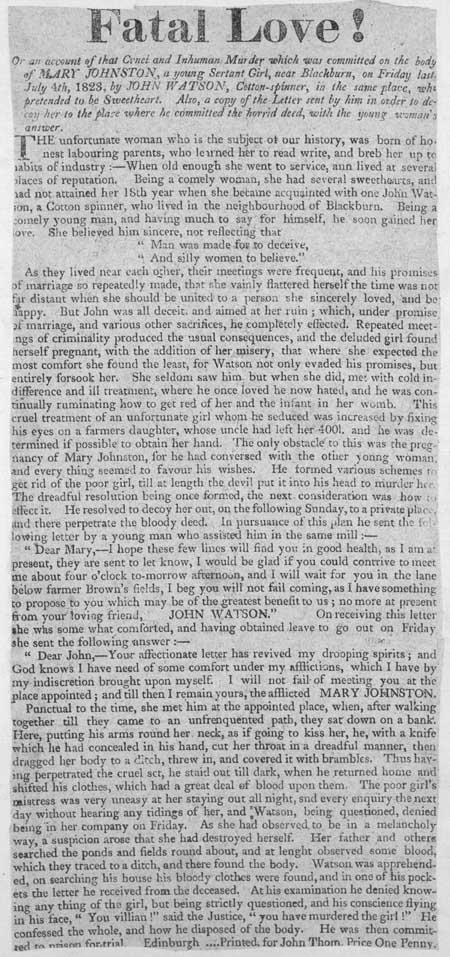 View larger image