Commentary
This crime report begins: 'An account of the execution of James Wilson and John M'Donald, at Glasgow, on Wednesday the 4th day of June. 1823 ; with their behaviour in Jail, and on the Scaffold.' This sheet was printed in Glasgow, on the 5th of June, 1823.
There are other reports of this case contained in the National Library of Scotland's collection. Many of these reports, however, took on a standard format to speed up the production process. Often, only the relevant details such as name, crime and date were changed. Normally the convicts did not sleep the night before, they received the clergymen with quiet humility and then their deaths were used as a vehicle of moral warning. Here, however, there is also a short description of Macdonald's dying throes for those looking for grim entertainment.
Reports recounting dark and salacious deeds were popular with the public, and, like today's sensationalist tabloids, sold in large numbers. Crimes could generate sequences of sheets covering descriptive accounts, court proceedings, last words, lamentations and executions as they occurred. As competition was fierce, immediacy was paramount, and these occasions provided an opportunity for printers and patterers to maximise sales.

Date of publication: 1823 shelfmark: Ry.III.a.2(40)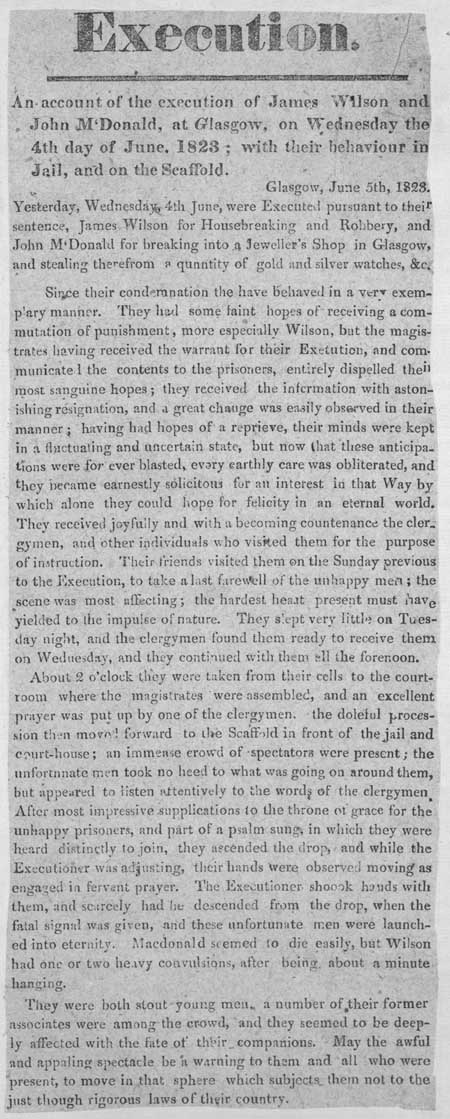 View larger image