Commentary
This crime report begins: 'A Full and Particular ACCOUNT of a most HORRID and INHUMAN MURDER, committed a few days ago, at Sunnybrae, Parish of Saline, in Fife, on the Body of a New Born Infant, by its own Unnatural Mother, who put it on a large Fire, by which it was nearly consumed before Discovered! / The following Paragraph, copied from the "The Edinburgh Observer," this morning, is truly shocking.' This sheet would have cost a penny to purchase.
It was common for broadside producers to crib information from other sources to cut down their costs and keep the information as recent as possible. Although not always attributed, the paragraphs from the 'Edinburgh Observer' have been accredited. Newspapers were a fairly new media and they reported a lot of dry, political information. This was not really of interest to the wider public and newspapers cost a lot of money both to produce and buy. Broadsides filled a niche in the market for sensational news which had a wide appeal. As a result of this wide audience base they were also used as a vehicle of moralisation.
Reports recounting dark and salacious deeds were popular with the public, and, like today's sensationalist tabloids, sold in large numbers. Crimes could generate sequences of sheets covering descriptive accounts, court proceedings, last words, lamentations and executions as they occurred. As competition was fierce, immediacy was paramount, and these occasions provided an opportunity for printers and patterers to maximise sales.

Date of publication: 1822 shelfmark: Ry.III.a.2(29)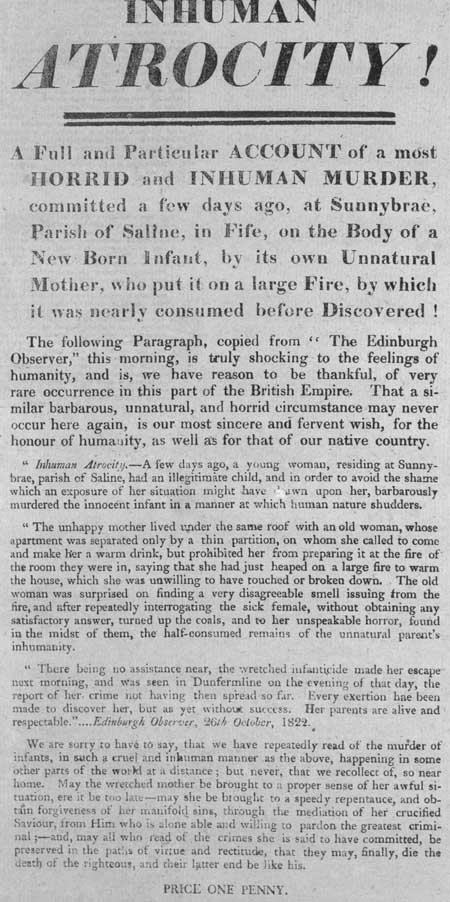 View larger image