Commentary
This report continues: 'Whereas upon Tuesday Evening last, the 19th Current, Captain ALEXANDER CAMPBELL, late of the 50th Regiment of Foot (commonly called Major Campbell,) a Prisoner for Debt, made his Escape from the Canongate Jail, Edinburgh, under Disguise.' It includes a description of Campbell and the offer of a reward, and was published in Edinburgh on 21st October 1819.
The offer of a reward would have most likely roused considerable interest in the escape of Alexander Campbell. Whilst broadsides were sold by pedlars and patterers who wandered the streets, the sheets often found their way onto walls in homes and public places, thereby reaching an extremely large audience. It is easy to imagine this pronouncement pasted on the walls of countless taverns and inns around Edinburgh. Even today, in some old buildings, broadsides are discovered under countless layers of wallpaper.
Reports recounting dark and salacious deeds were popular with the public, and, like today's sensationalist tabloids, sold in large numbers. Crimes could generate sequences of sheets covering descriptive accounts, court proceedings, last words, lamentations and executions as they occurred. As competition was fierce, immediacy was paramount, and these occasions provided an opportunity for printers and patterers to maximise sales.

Date of publication: 1819 shelfmark: L.C.Fol.74(045)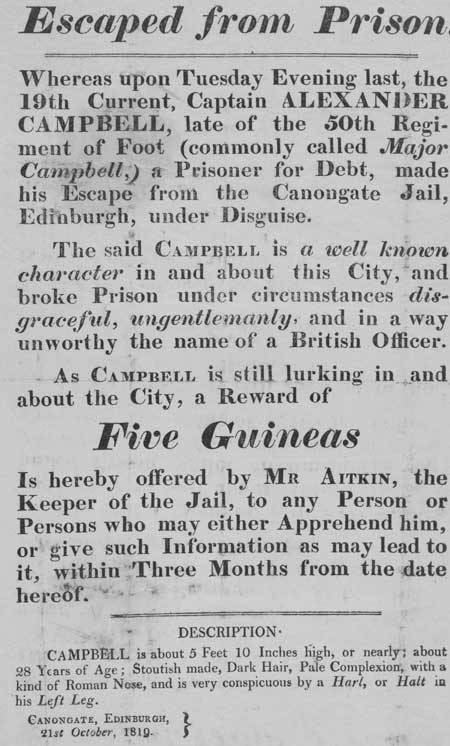 View larger image