Commentary
Verse 1 begins: 'What is our land at last come to? / Our ancestors would weep'. This song was written by Wag Phil to the tune 'MacPherson's Farewell'. There is a small introduction to the piece and a woodcut of 'Jamie', a Burke and Hare victim. This illustration could be bought from W. Smith of 3 Bristo Port, Edinburgh. The Editor talks about himself but does not give his names. There are also no publication details included.
This text is one of many which featured in the Victorian debate over human dissection in the name of medical advance. Although socially frowned upon, the medical establishment was desperate for bodies to work on so that biological processes to could be better understood. This resulted in the new crime of 'body snatching' where cadavers were dug out of fresh graves and sold illicitly to doctors. This eventually lead to the infamous case of Burke and Hare who began to murder people, to sell their bodies for profit.
Burke and Hare were Irish bodysnatchers and murderers, who worked around Edinburgh's Canongate area - eventually becoming local legends. They hit upon the idea of murdering vulnerable or solitary people (in an attempt not to get caught) so that they could sell the bodies for dissection. Hare turned King's Evidence and so was acquitted, but this secured the conviction of Burke, who was hanged on the 28th January 1829.

Probable date published: 1829 shelfmark: Ry.III.a.6(038)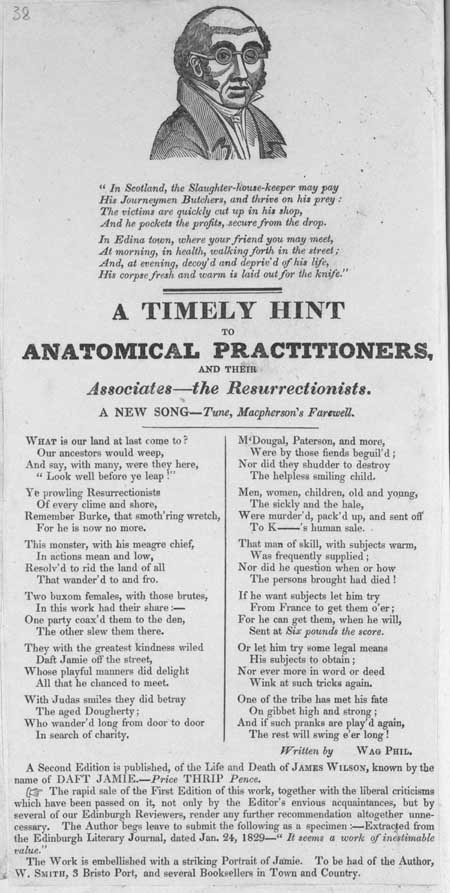 View larger image