Commentary
This report begins: 'A sketch of the Conduct, Transactions and Behaviour of DAVID DOBBIE and JOHN THOMSON, who were Executed on Wednesday the 18th August, for Assault, Murder and Robbery, with their Last Dying Confession, and Behaviour on the Scaffold, &c.' This sheet was published by R. Menzies of the Lawnmarket, Edinburgh, and cost three-halfpence.
The numerous sheets published on the subject of the Gilmerton murderers indicate that the crime was a terrific money-spinner for printers of broadsides, and that competition for sales between rival publishers was fierce. The text is broken up with four woodcut images, which give the broadside the look of a modern newspaper. There are a number of broadsides reporting the same subject that were published by different printers, and these other sheets can be found in the National Library of Scotland?s collection.
Broadsides are single sheets of paper, printed on one side, to be read unfolded. They carried public information such as proclamations as well as ballads and news of the day. Cheaply available, they were sold on the streets by pedlars and chapmen. Broadsides offer a valuable insight into many aspects of the society they were published in, and the National Library of Scotland holds over 250,000 of them.

Date of publication: 1830 shelfmark: F.3.a.14(69)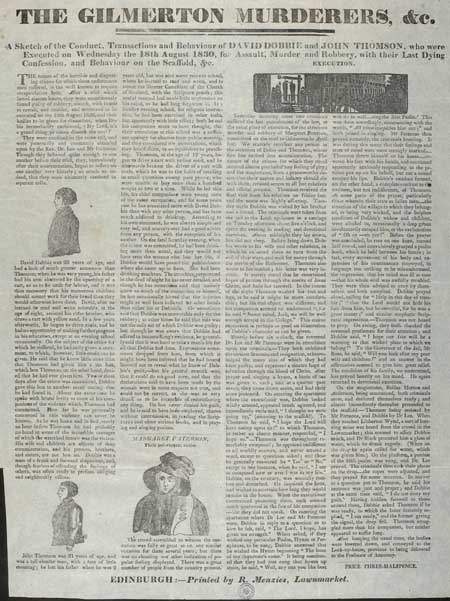 View larger image