Commentary
The first ballad begins: 'Young Susan was a blooming maid / So valliant stout and bold.' The second ballad begins: 'FAREWELL ye splendid citadels, that metropolis call'd Paris' / Where Phoebes every morning shoots forth her revolving beams.' The third ballad begins: 'It was in yon meadows I carelessly did stray, / And I beheld a lady fair with some young sailor gay.' As this sheet includes three ballads for the price of one, the chapmen who sold broadsides to the public would have marketed this one as a bargain.
Although, at first glance, these three ballads might appear incongruous, 'Susan's Adventures' and 'British Man-of-War' appear to be part of a pair. For both songs tell of a young woman called Susan, whose sweetheart - William - is a sailor who serves on board a British warship. Written in a lofty and epic style, the third ballad is a commemorative song to celebrate Wellington's defeat of Napoleon at Waterloo in 1815, and the French Emperor's subsequent banishment to the island of St Helena, in the South Atlantic.
Early ballads were dramatic or humorous narrative songs derived from folk culture that predated printing. Originally perpetuated by word of mouth, many ballads survive because they were recorded on broadsides. Musical notation was rarely printed, as tunes were usually established favourites. The term 'ballad' eventually applied more broadly to any kind of topical or popular verse.

Probable period of publication: 1815-1821 shelfmark: L.C.Fol.70(139)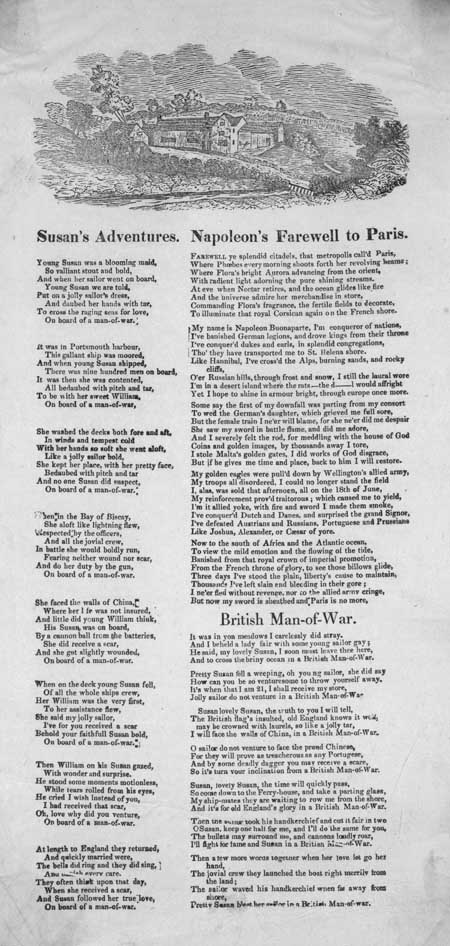 View larger image