Commentary
The first ballad begins: 'WHILE strolling near the Marble Arch, / One evening in July, / A maiden fair, with golden hair, / Came tripping lightly by, / The lustre of her almond eyes, / Shone o'er me like a torch / And in a whisper, softly said, / Is this the Marble Arch?' This ballad was written, composed and sung by Sam Bagwall.
The second ballad begins: 'PROUDLY the note of trumpet is sounding, / Loudly the war-cries arise on the gale, / Fleetly the steed by Loc Suilig is bounding, / To join the thick squadrons in Saimer's green . . . '
As this sheet contains two separate ballads, the chapmen would have sold it as a special offer of 'two stories for the price of one'. Given the contrasting tones, and subject matter of each ballad, however, this pairing does appear rather incongruous. Set in London, the first ballad is narrated by a jilted male lover, who meets his sweetheart below the Marble Arch. The second ballad, 'O'Donnell Aboo', is an epic-style eulogy to the Irish chieftain, Rory O'Donnell, Earl of Tyrconnel (1575?1608). The tune for O'Donnell Abu was composed in the early part of the 19th century by Joseph Haliday, a man from Carrick-on-Suir, Co. Tipperary. He was bandmaster of the Cavan militia. Michael McCann, a young Galway man, added words to the music. The composition first appeared in 'The Nation' of January, 1843 and was then called 'The Clan Connell War Song'.

Probable period of publication: 1860-1890 shelfmark: L.C.Fol.70(75a)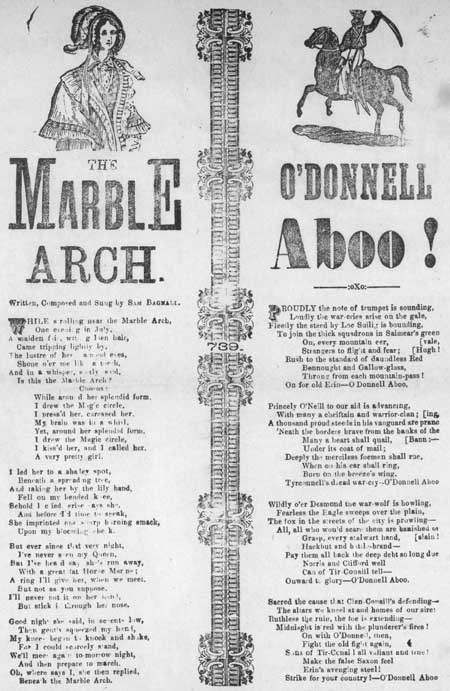 View larger image