Commentary
Verse 1: 'Oh let me like a soldier fall / Upon some open plain ? / This breast expanding for a ball / To blot out every stain. / Brave manly hearts confer my doom, / That gentler ones may tell; / Howe'er unknown forgot my tomb, / He, like a soldier fell. / He, like a soldier fell.' A note below the title states that 'This popular song can always be had at the Poet's Box, 224 Overgate, Dundee'.
This solemn ballad tells of a young man's desire to die the - supposedly - glorious death of a soldier, while fighting on some battlefield. The shifting narrative viewpoint of the ballad is quite interesting, switching from the young man himself to the anonymous narrator. Although not especially interesting, this ballad does at least reveal that the young men of this era aspired to be soldiers, and that joining the armed forces was a common way of earning a living. Alternatively, it could instead be argued that the establishment wished the country's young men to think that dying a soldier's death was a noble objective that was well worth achieving.
The Dundee Poets? Box was in operation from about 1880 to 1945, though it is possible that some material was printed as early as the 1850s. Most of the time it had premises at various addresses in Overgate. In 1885 the proprietor J.G. Scott (at 182 Overgate) had published a catalogue of 2,000 titles consisting of included humorous recitations, dialogues, temperance songs, medleys, parodies, love songs, Jacobite songs. Another proprietor in the 1880s was William Shepherd, but little is known about him. Poets? Box was particularly busy on market days and feeing days when country folk were in town in large numbers. Macartney specialised in local songs and bothy ballads. Many Irish songs were published by the Poets? Box ? many Irishmen worked seasonally harvesting potatoes and also in the jute mills. In 1906 John Lowden Macartney took over as proprietor of the Poet?s Box, initially working from 181 Overgate and later from no.203 and 207.
It is not clear what the connection between the different Poet?s Boxes were. They almost certainly sold each other?s sheets. It is known that John Sanderson in Edinburgh often wrote to the Leitches in Glasgow for songs and that later his brother Charles obtained copies of songs from the Dundee Poet?s Box. There was also a Poet?s Box in Belfast from 1846 to 1856 at the address of the printer James Moore, and one at Paisley in the early 1850s, owned by William Anderson.
Early ballads were dramatic or humorous narrative songs derived from folk culture that predated printing. Originally perpetuated by word of mouth, many ballads survive because they were recorded on broadsides. Musical notation was rarely printed, as tunes were usually established favourites. The term 'ballad' eventually applied more broadly to any kind of topical or popular verse.

Probable period of publication: 1880-1900 shelfmark: L.C.Fol.70(66b)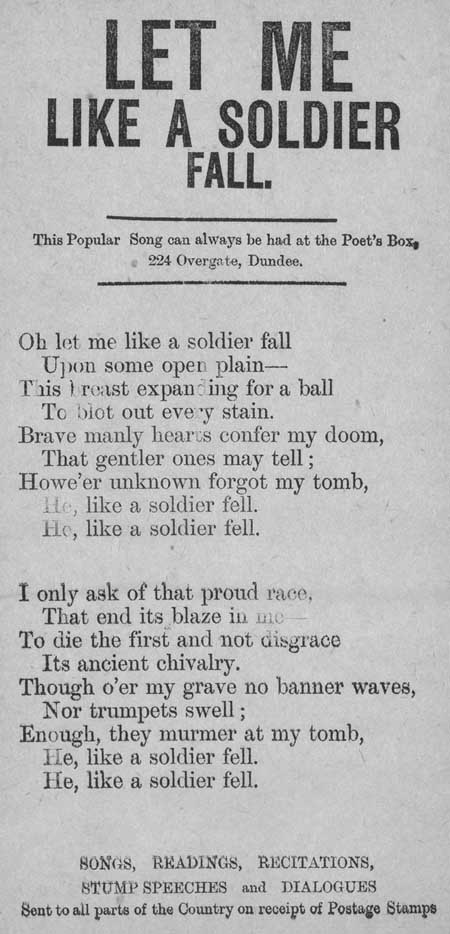 View larger image