Commentary
Verse 1 begins: 'Twas on a summer's afternoon, / A wee before the sun gied down'. The woodcut above the title depicts a very finely dressed couple holding hands beside a tree. This song was written by Lady Carolina Nairne, but was originally published under a pseudonym.
This is a very delicate and pretty song about a laird of Gowrie, courting a local lass whom he appears to be very much in love with. After kissing her, he immediately proposes, she accepts and they are married. The implication then is that both live happily together. The whole story is unusually uncomplex and happy for a broadside publication. There is no stern moral lecture or life lesson included here!
Early ballads were dramatic or humorous narrative songs derived from folk culture that predated printing. Originally perpetuated by word of mouth, many ballads survive because they were recorded on broadsides. Musical notation was rarely printed, as tunes were usually established favourites. The term 'ballad' eventually applied more broadly to any kind of topical or popular verse.

Probable period of publication: 1860-1890 shelfmark: L.C.Fol.178.A.2(110)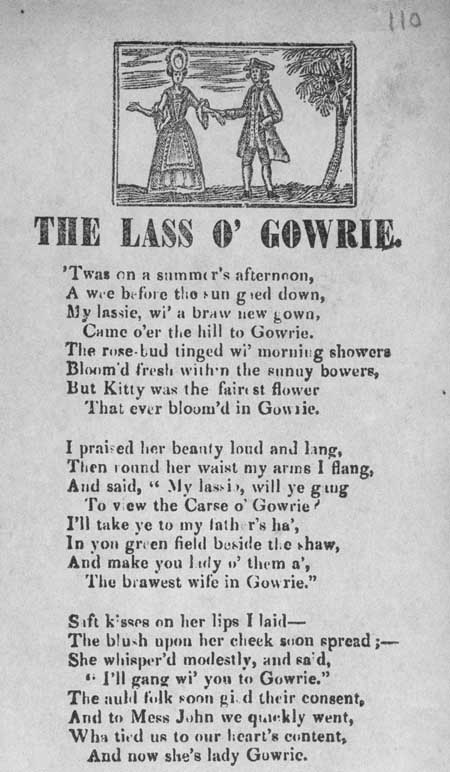 View larger image