Commentary
This broadside begins: 'On Gallia's Shore we sat and wept, / When Scotland we thought on, / Rob'd of her bravest Sons, and all / Her ancient Spirit gone.' 'Gallia' was the Latin name for 'Gaul', an ancient region of north-west Europe - in the vicinity of modern-day France and Belgium.
Psalm 137 lamented the destruction of Jerusalem: 'By the rivers of Babylon / there we sat down and there we wept / when we remembered Zion'. In this 'Imitation', however, the sentiments of Psalm 137 have been transposed to Scotland. A large proportion of broadside readers were probably familiar with this particular psalm, and would have been entertained and impassioned by its shift in location.
Early ballads were dramatic or humorous narrative songs derived from folk culture that predated printing. Originally perpetuated by word of mouth, many ballads survive because they were recorded on broadsides. Musical notation was rarely printed, as tunes were usually established favourites. The term 'ballad' eventually applied more broadly to any kind of topical or popular verse.

Probable period of publication: 1860-1890 shelfmark: L.C.Fol.178.A.2(091)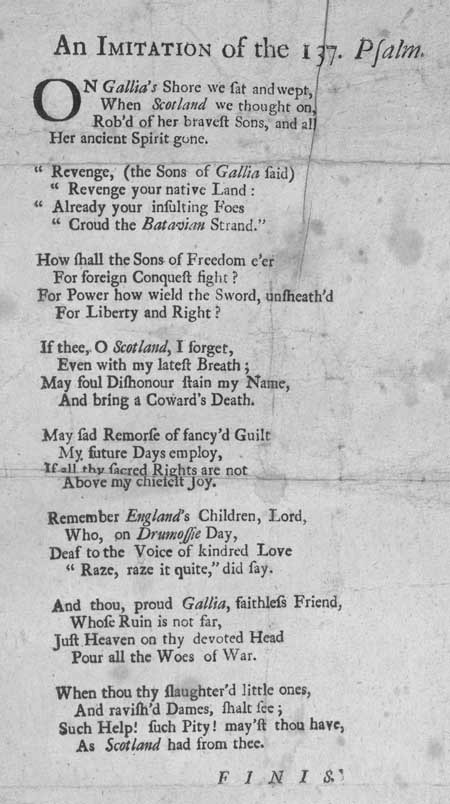 View larger image