Commentary
Verse 1: 'Once I was a waterman, / And lived at home at ease; / Now I am a mariner, / And plough the angry seas; / I thought I'd like a seafarin' life, / So bid my love "adoo," / And shipped as cook and stewart, boys, / On board o' the "Kangaroo."
This song is narrated by a man who goes off to sea, leaving his sweetheat behind, and returns to discover that she has married someone else. Themes of parting, and of betrayal, are not uncommon in broadside ballads, but whereas in many cases these are sad songs, this example is intended to be quite humorous. The song subverts traditional romantic imagery: the presents the narrator buys for his lover are not jewels and spices but tortoises and a rat and a cockatoo, and the lover herself is not a young maiden but a twice-married laundrywoman aged forty. The reference to 'Milford Bay' suggests this may be a Canadian song.
Early ballads were dramatic or humorous narrative songs derived from folk culture that predated printing. Originally perpetuated by word of mouth, many ballads survive because they were recorded on broadsides. Musical notation was rarely printed, as tunes were usually established favourites. The term 'ballad' eventually applied more broadly to any kind of topical or popular verse.

Probable period of publication: 1860-1890 shelfmark: L.C.Fol.178.A.2(087)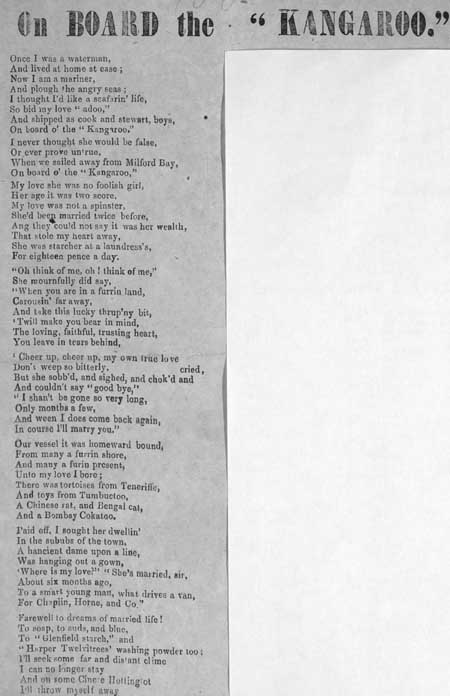 View larger image