Commentary
This report begins: 'Margaret M'Donald, the subject of the following narrative, was born in 1842, of poor, but respectable parents in this town. When she left she was but 13 years of age, her parents died and left her & an older brother, totally unprovided for. Her brother though 5 years older was but an apprentice tailor, and his scanty wages went but a short way in supporting them'.
'Human interest' stories, sometimes touching or heroic, sometimes farcical or bizarre, were less popular than crime reports but were still carried regularly on broadsides. The example shown here is one of the more bizarre stories. It recounts how Margaret McDonald, an orphan, supported herself by assuming the identity of a boy and going into service with a well-off Edinburgh family. Her true gender was uncovered accidentally at her wedding to another woman, a revelation which, according to the author, afforded 'great mirth' to all the wedding guests, if not to the bride.
Broadsides are single sheets of paper, printed on one side, to be read unfolded. They carried public information such as proclamations as well as ballads and news of the day. Cheaply available, they were sold on the streets by pedlars and chapmen. Broadsides offer a valuable insight into many aspects of the society they were published in, and the National Library of Scotland holds over 250,000 of them.

Probable period of publication: 1870-1880 shelfmark: L.C.Fol.178.A.2(085)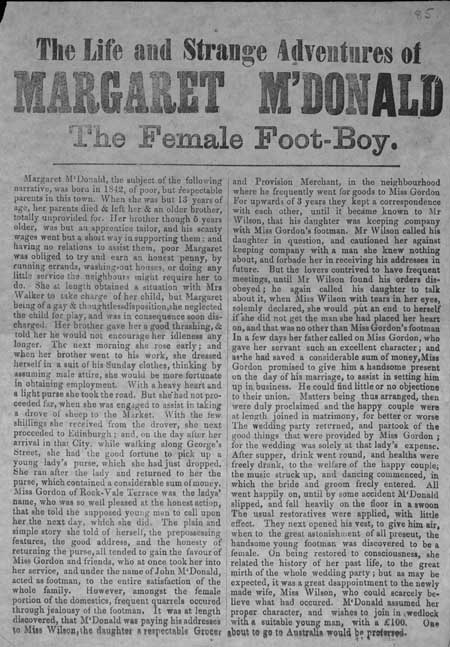 View larger image