Commentary
Verse 1 begins: 'Come all ye tender lovers till I relate my grief, / My darling's gone and left me with the small hopes of relief'. The top of the sheet carries a woodcut of a grand, classical-styled building, which is built over an archway. There are no publication details given, but this is one of two songs - printed by James Lindsay - on this sheet.
It is made clear in the lyrics that the characters adhere to the Roman Catholic religion, and so this distinction may have been important to, and had a greater meaning for, readers at the time. The lyrics recount a classic broadside tale of two lovers parted by distance. It would seem that the girl's lover has been forced to travel and resettle in America, where she hopes he will prosper. She, in turn, will wear widow's weeds and live in the hope of his return.
Early ballads were dramatic or humorous narrative songs derived from folk culture that predated printing. Originally perpetuated by word of mouth, many ballads survive because they were recorded on broadsides. Musical notation was rarely printed, as tunes were usually established favourites. The term 'ballad' eventually applied more broadly to any kind of topical or popular verse.

Probable period of publication: 1852-1859 shelfmark: L.C.Fol.178.A.2(061)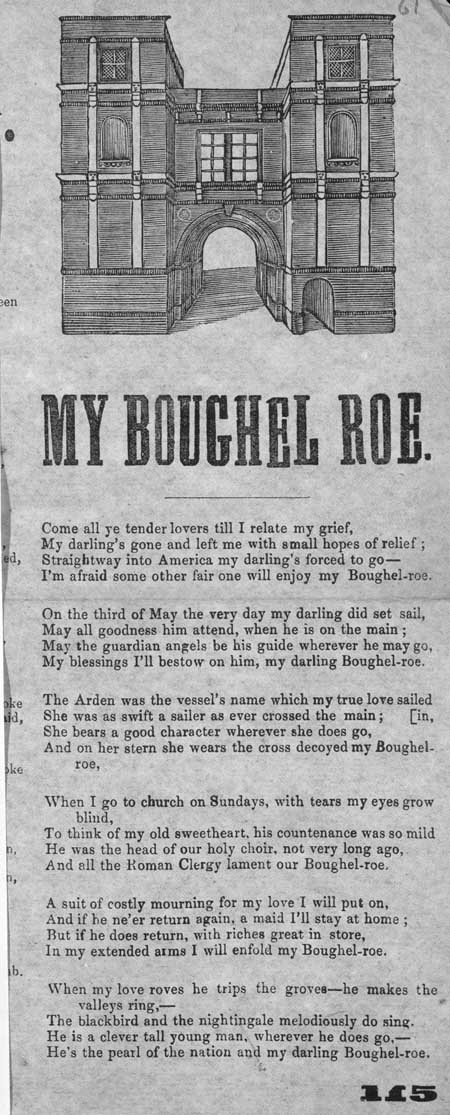 View larger image