Commentary
Verse 1 begins: 'DEATH: "O Sinner ! come by Heaven's decree, / My warrant is to summon thee'. It was supposedly composed by a Sunday school teacher. It was published by James Lindsay of 9 King Street, Glasgow (1852-59), and includes three woodcut illustrations along the top.
Most of Lindsay's broadsides, and he produced many, carry an illustration and, more unusually perhaps, they are often relevant to the text. Here two biblical scenes have been included, one of them set in a modern context. This helps enhance the moral reminder contained in the text. There are also two decorative motifs included. The cartouche on the right can be seen on other Lindsay sheets. It is relatively unusual to find a printer with such a large stock of expensive woodcuts of such varied themes.
Broadsides, cheap and accessible, were often used as moral forums with 'lessons of life' included in the narrative. Broadside authors tended to see themselves as moral guardians and teachers in society. As such, publishers often disseminated 'educational' texts outlining the social and personal consequences of undisciplined or immoral behaviour.

Probable period of publication: 1852-1859 shelfmark: L.C.Fol.178.A.2(059)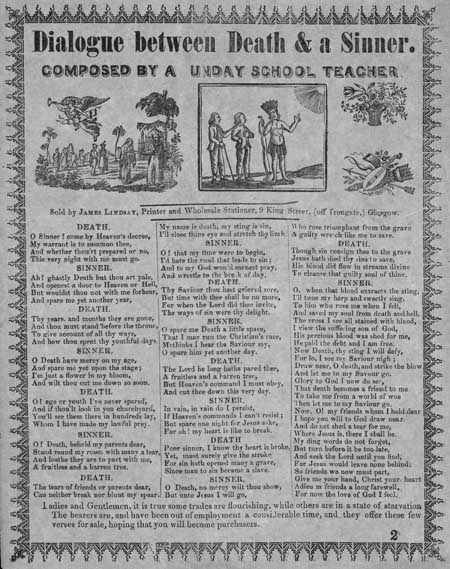 View larger image