Commentary
This song begins: 'Good people pay attention / To these my humble rhymes, / About the state of Trade, / And those shocking dear times'. The chorus begins: 'Things are so high, poor people cry, / Such times was ne'er before'. It was written by John Wilson of Glasgow, and published by the printer and wholesaler, James Lindsay, of 9 King Street, Glasgow.
This light-hearted song bewails the rising prices that are one consequence of the war. As with many broadsides, this one assumes a certain degree of knowledge amongst the readership and, as such, does not actually name the war in question. Although this can at times be confusing for the modern-day reader, it would have made sense to a contemporary audience. After lamenting these 'Dear Times', the author makes his own plea: 'Now, to conclude, and make an end / Unto my humble lines. / You know with us poor singers / It is very hard times. / But to live, and let live, / Is a maxim you all know, / So I hope you'll buy a song from me, / Before that you do go'.
Early ballads were dramatic or humorous narrative songs derived from folk culture that predated printing. Originally perpetuated by word of mouth, many ballads survive because they were recorded on broadsides. Musical notation was rarely printed, as tunes were usually established favourites. The term 'ballad' eventually applied more broadly to any kind of topical or popular verse.

Probable period of publication: 1852-1859 shelfmark: L.C.Fol.178.A.2(051)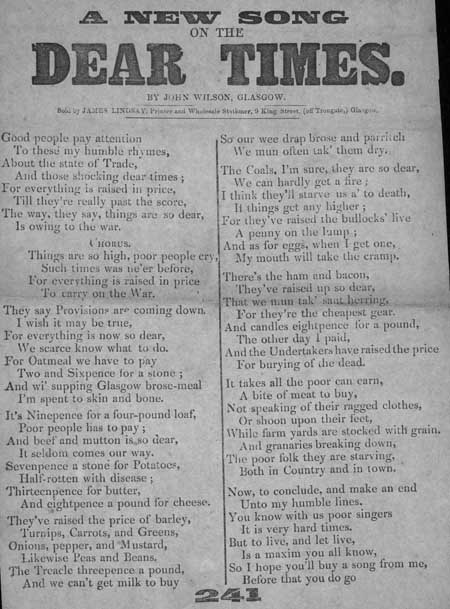 View larger image