Commentary
This ballad begins: 'Oh Erin! give ear to your emigrant's ditty, / That mourns for old Granua each day; / Over Europe we're scattered in each port and city, / While we're seeking employment each day.' 'Erin' is 'Ireland' and 'Granua' is 'Mother Ireland'. It was published by James Lindsay of 9 King Street, Glasgow, and probably sold for one penny.
Whilst this ballad pays homage to Ireland, it also bemoans the traitors of Erin who, through bad legislation, brought the country to its knees. As a result of agricultural policies that favoured the rights of landowners over tenant farmers, poverty and starvation became mainstays of agricultural life in eighteenth- and nineteenth-century Ireland.
In the second verse of the ballad, the line 'In the midst of plenty some thousands are starving' could be referring to the Irish potato famine of the late 1840s, during which hundreds of thousands of Irish peasants died after the failure of the potato crop, and many more emigrated to escape a smiliar fate. The tragic irony of these years is that while people were dying from starvation, plentiful supplies of wheat, oats, barley and meat were being exported from Ireland. A broadside dealing with such issues would have proved extremely popular with the thousands of Irish immigrants who had settled in Scotland.

Probable period of publication: 1852-1859 shelfmark: L.C.Fol.178.A.2(031)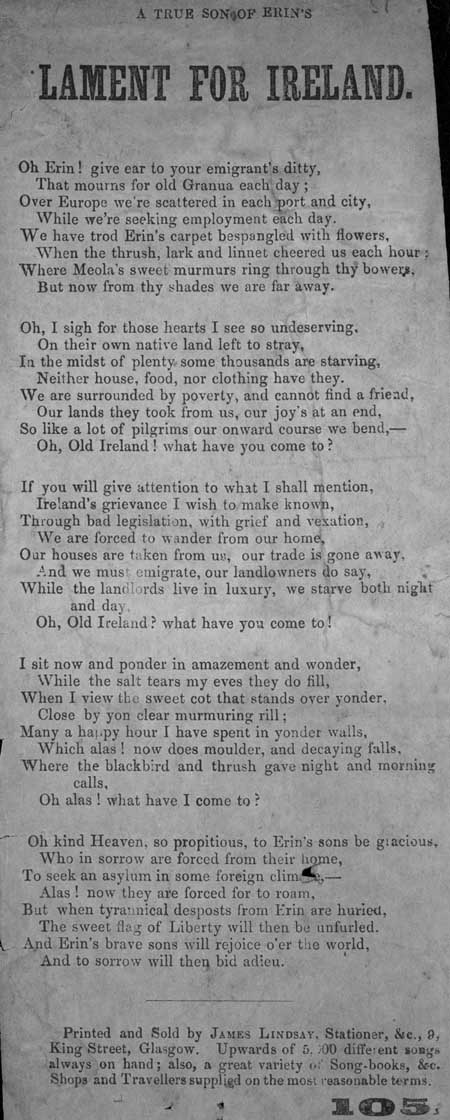 View larger image