Commentary
This ballad begins: 'Wi' a sair heart I wander and think on days that's gane, / I hear the young anes singing o' the drunkard's raggit wean; / I ken' the tales ower true, when I turn my e'en on hame, / Farewell unto the drunkard's cup, from drinking I'll refrain.' It was published by Robert McIntosh of 96 King Street, Calton, Glasgow.
A decorative woodcut of Powis Castle has been printed at the top of this sheet. Many broadside producers included an illustration to boost sales: the broadside-buying public were more inclined to buy a sheet that featured a picture, believing it to be better value for money. As a result, broadside publishers often kept a fairly limited stock of woodcuts and reused them. This often resulted in the illustration bearing little or no relation to the topic. Indeed, Powis Castle in Wales has little to do with the story of the reformed drunkard told in this ballad.
Early ballads were dramatic or humorous narrative songs derived from folk culture that predated printing. Originally perpetuated by word of mouth, many ballads survive because they were recorded on broadsides. Musical notation was rarely printed, as tunes were usually established favourites. The term 'ballad' eventually applied more broadly to any kind of topical or popular verse.

Probable date published: 1849 shelfmark: L.C.Fol.178.A.2(018)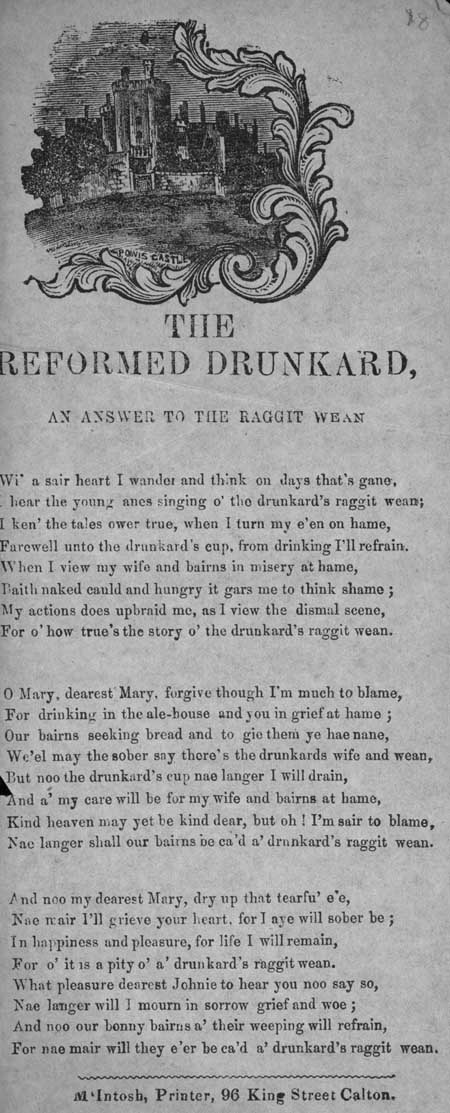 View larger image