Commentary
'An account of the notorious WILLIAM PROBERT, and Six other unfortunate Men, who are all to be Executed in London on Monday Morning next, for the crimes of Horsestealing and Forgery. Probert was the companion of the late notorious Thurtel and Hunt, the horrid Murderers, the former of whom was also executed for the bloody murder of their companion, William Weare, in a lonely part of the country.' The sheet was published in 1825 by John Muir of Glasgow.
This broadside relates the sad end that befell William Probert, who was executed in London for stealing a horse and committing forgery. Probert is infamous for his involvement in 'The Elstree Murder' of 1823, which is mentioned in the introduction to this sheet. After turning King's Evidence against his comrades, Thurtel and Hunt, Probert and his wife became outcasts from society - hence the desperate crimes which led to his ultimate undoing. Executed outside Newgate on the 20th of June 1825, there was a general feeling that Probert had at last received what he deserved.
Reports recounting dark and salacious deeds were popular with the public, and, like today's sensationalist tabloids, sold in large numbers. Crimes could generate sequences of sheets covering descriptive accounts, court proceedings, last words, lamentations and executions as they occurred. As competition was fierce, immediacy was paramount, and these occasions provided an opportunity for printers and patterers to maximise sales.

Date of publication: 1825 shelfmark: L.C.Fol.73(082)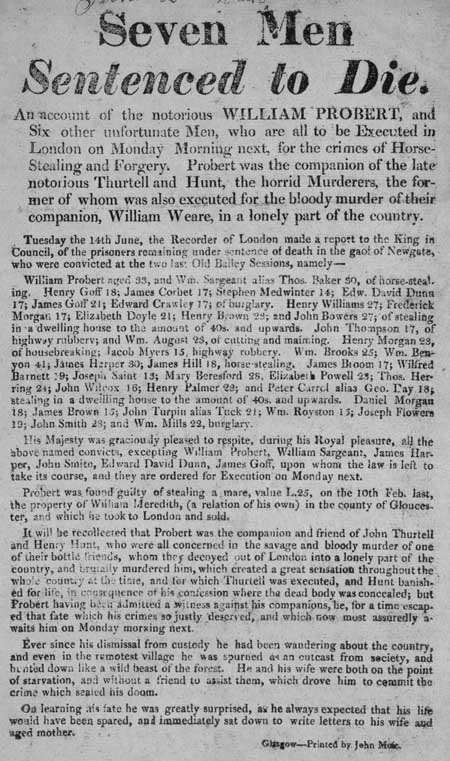 View larger image