Commentary
This execution notice begins: 'EXECUTION of that unfortunate young Man, WILLIAM M'INTYRE, belonging to Glasgow, who was Executed at Edinburgh on Wednesday morning the 26th Feb. 1823, for Housebreaking and Theft.' It was printed by John Muir of Glasgow, and probably sold for one penny.
The National Library of Scotland's collection also contains a broadside detailing the trial and sentencing of William McIntyre. Both were printed by John Muir of Glasgow and largely contain the same information on the trial, including the Lord Justice Clerk's reaction to the verdict. This broadside, however, also gives a very brief account of McIntyre's execution at Liberton's Wynd. McIntyre's short address to the audience follows a typical style favoured by broadside producers. Whilst it is possible he uttered these words, it is also possible that they were 'placed in his mouth' by the broadside printer - religious and moral instruction from the condemned sold sheets.
Reports recounting dark and salacious deeds were popular with the public, and, like today's sensationalist tabloids, sold in large numbers. Crimes could generate sequences of sheets covering descriptive accounts, court proceedings, last words, lamentations and executions as they occurred. As competition was fierce, immediacy was paramount, and these occasions provided an opportunity for printers and patterers to maximise sales.

Date of publication: 1823 shelfmark: L.C.Fol.73(045)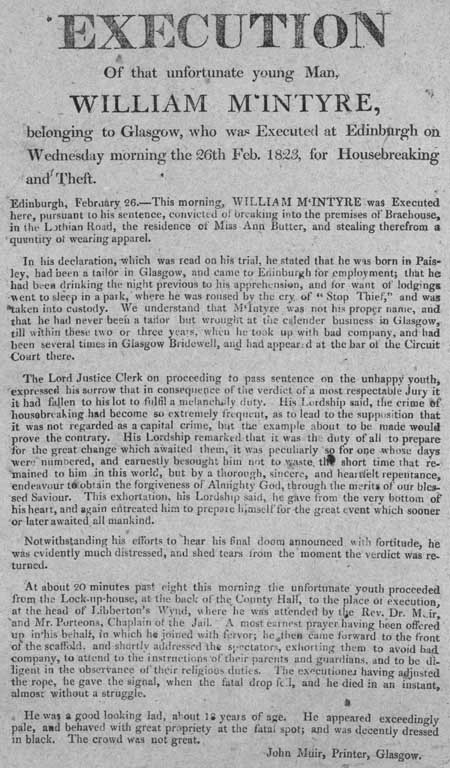 View larger image