Commentary
This report begins: 'An account of the Trial and Sentence of William Mitchel, for Theft and Forgery, who is to be executed at the west end of the Tolbooth of Edinburgh, on Wednesday the 9th of October next. - Also an account of the Trial and Execution of Samuel Tucker, for the Murder of his Wife, which atrocious crime he perpetrated by starving her to death, and for which he suffered at Salisbury, on Friday 2d of August, 1811, and his body was given for dissection.' The sheet was published by T. Duncan, Glasgow.
This broadside describes the trials and sentences of two separate crimes. The first report tells of a defendant called William Mitchel, who was found guilty of forgery and sentenced to death. It could be that this sentence was reduced to one of transportation, however, since many death sentences for crimes such as forgery were later reduced if the jury recommended mercy. Following this report, is a chilling account of how Samuel Tucker, a weaver turned doctor, starved his wife to death after imprisoning her in their house. Tucker was sentenced to death for this most horrendous of crimes and, after confessing his sins in a chapel, was executed in Salisbury.
Broadsides are single sheets of paper, printed on one side, to be read unfolded. They carried public information such as proclamations as well as ballads and news of the day. Cheaply available, they were sold on the streets by pedlars and chapmen. Broadsides offer a valuable insight into many aspects of the society they were published in, and the National Library of Scotland holds over 250,000 of them.

Date of publication: 1811 shelfmark: L.C.Fol.73(002)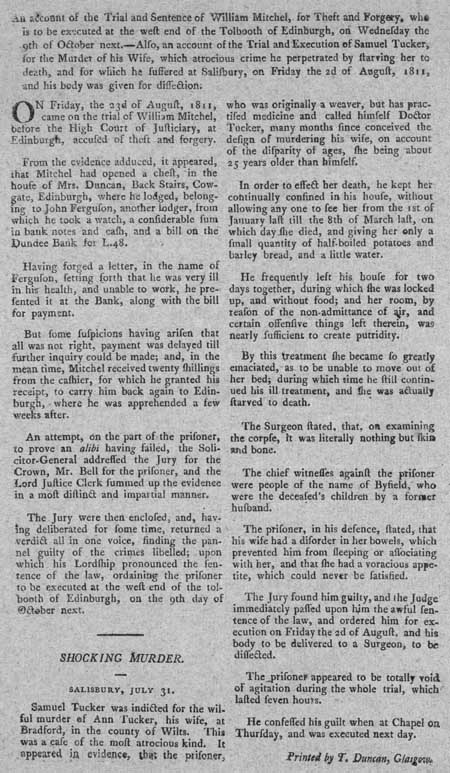 View larger image