Commentary
Verse 1: 'AH! fatal Death what brought you hither, / To slay poor Archey in a fever, / An' leave the Finishers altogether, / To mourn with pain, / Thinking they will never get a brither / Like him again.' The publisher of this broadside was T. Duncan. The place of publication is not given.
The genre of comic or mock elegy was popularised in Scottish poetry by 'The Life and Death of Habbie Simson, Piper in Kilbarchan' by Robert Sempill of Beltrees (c.1595-1659). The pious commendations of the tradtional, serious elegy were replaced by a humourous, slightly tongue-in-cheek appraisal of the life and qualities of the subject, which still managed to convey fondness and respect. Another important characteristic of the genre is the 'Standard Habbie' verse form, introduced by Sempill and intact in this example.
Early ballads were dramatic or humorous narrative songs derived from folk culture that predated printing. Originally perpetuated by word of mouth, many ballads survive because they were recorded on broadsides. Musical notation was rarely printed, as tunes were usually established favourites. The term 'ballad' eventually applied more broadly to any kind of topical or popular verse.

shelfmark: L.C.Fol.73(001)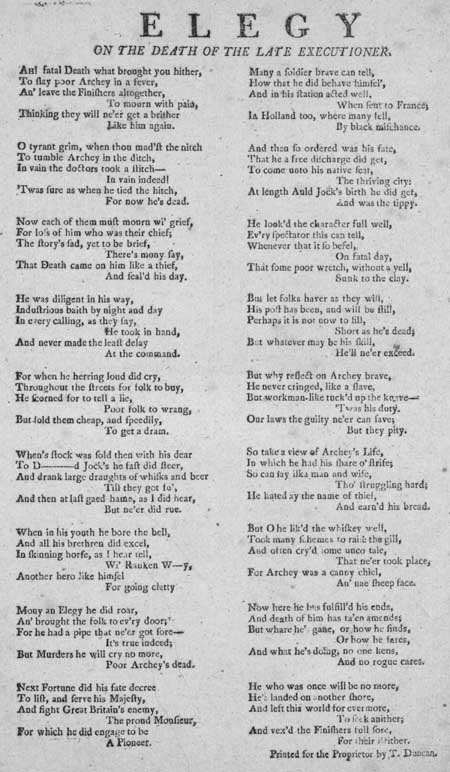 View larger image