Commentary
This broadside begins: 'Lamentation of Elizabeth Banks, Presently lying under Sentence of Death in the Calton-Hill Jail, and who is to be Executed at Edinburgh on Monday the 3d day of August next, for the Horrid and Barbarous Murder of PETER BANKS, her husband, at Pathhead, by giving him a quantity of Arsenic in a dose of Epsom Salts on the 28th of April last, of which he died the same day in great agony.' It was published by Sanderson of Edinburgh in 1835.
The lamentation of the condemned prisoner was a common topic for broadsides in nineteenth-century Scotland. It is likely that very few if any of these lamentations were actually composed by the prisoners,and most were probably the work of anonymous broadside authors. The 'Lamentation of Elizabeth Banks' is fairly typical. Written in a simple verse form, it begins with the prisoner regretting her crime, then warning people against following in her footsteps, and ends with her asking for the forgiveness of the public and of God.
Broadsides are single sheets of paper, printed on one side, to be read unfolded. They carried public information such as proclamations as well as ballads and news of the day. Cheaply available, they were sold on the streets by pedlars and chapmen. Broadsides offer a valuable insight into many aspects of the society they were published in, and the National Library of Scotland holds over 250,000 of them.

shelfmark: F.3.a.13(123)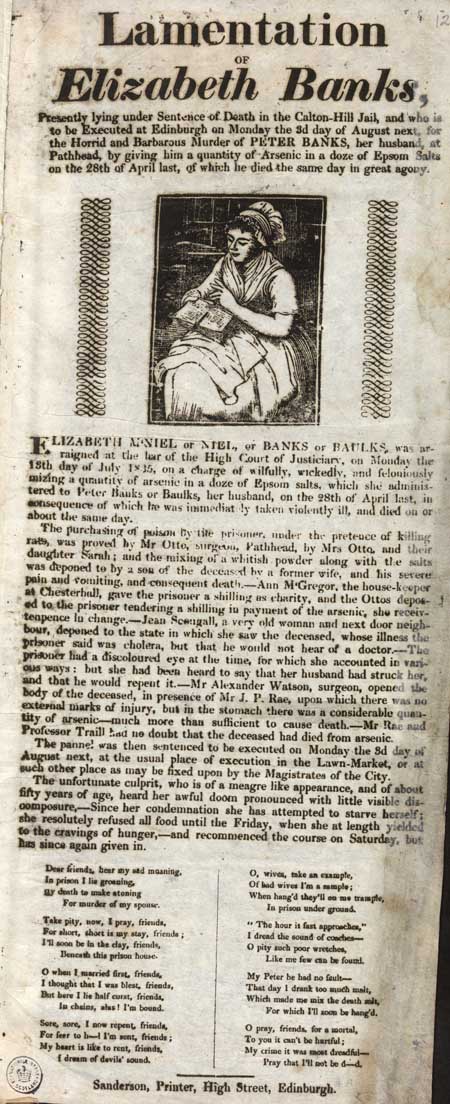 View larger image