Commentary
This broadside begins: 'LAMENTATION OF MARY BRAID, Who is to be Executed at Edinburgh, on Monday the 17th day of February'. After a futher description of the crime, there follow two verses, one bemoaning recent crimes in Scotland, the other apparently a lamentation by the condemned woman, which begins, 'Oh, all who hear of my sad state / Oh, pity my poor case' This broadside was published by Sanderson of Edinburgh, in 1834.
Broadsides featuring cautionary verses based on recent crimes were not uncommon. Broadside authors and publishers predated some modern newspaper editors in assuming the role of moral instructor to their readership. It is highly improbable that the 'Lamentation of Mary Braid' was the work of the condemned woman, and far more likely that the poem was written by the same anonymous broadside author who composed the accompanying verses. This broadside emphasises its cautionary message with a macabre woodcut depicting a woman drowning a child.
Broadsides are often crudely illustrated with woodcuts ? the earliest form of printed illustration, first used in the mid-fifteenth century. Inclusion of an illustration on a broadside increased its perceived value, especially among the illiterate. To keep costs down, publishers would normally reuse their limited stock of generic woodcuts.

Date of publication: 1834 shelfmark: F.3.a.13(117)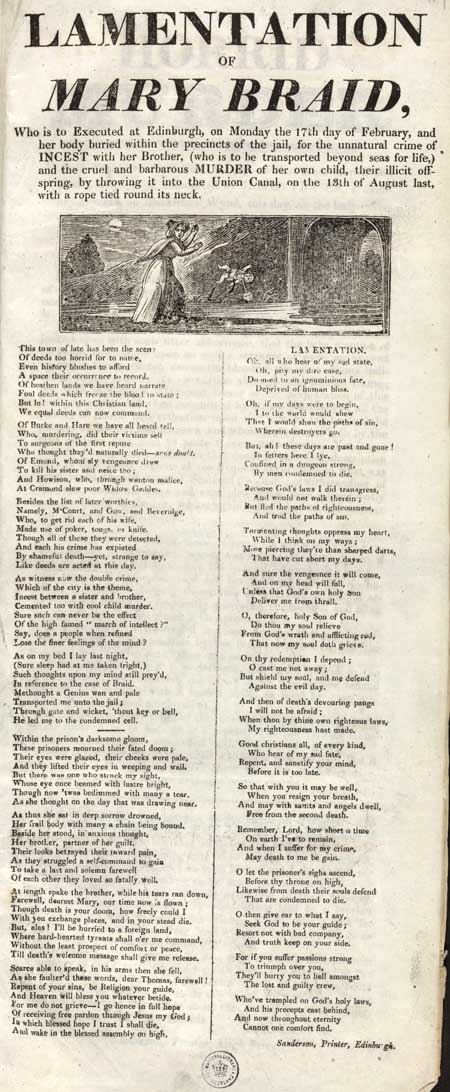 View larger image