Transcription
AWFUL CRUELTY!
Or, the Life of Miss AGNES RAE.
THE particulars of the Life and Death of Miss AGNES RAE, a gentleman's
daughter, belonging to near Dunfermline, who was betrayed and seduced by
a young gentleman ; she became pregnant to him ; his love turned to hatred
towards her, and ordered his servants to turn her out of doors ; she was then
reduced to poverty and obliged to beg alms from door to door, and on Mon-
day last was found in a most deplorable condition, lying dead in a byre be-
longing to Mr Blackburn, between Dunfermline and Kinross: with a copy
of a beautiful and interesting Letter, and a copy of Verses, which were found
in her pocket-book, written in her own hand-writing.
" ONCE the dearest but now the crueliest of men?if my exhausted spirit
would support my trembling hand, whilst I write a few lines to ease my broken
heart, it would be the last office I should require them to do, then may they
leave me; then may I find in the grave; a retreat from the scorn of men. How
is my gold become dim ; and my most fine gold become dross. I do not com-
mand you, by the awful name of virtue, to accuse you of ingratitude; ah ! no,
the scene is.entirely changed, you have robbed me of the brightest gem in the
female character, and now I come as a humble supplicant?is this possible-
am I awake, or did I dream ? ah! poor girl, think not what you were, but what
you are, how can I rest from calling to remembrance these days of innocence
and peace, when, with a serene countenance and sincere heart, I could look up
to heaven and beg the God of purity would be my protector; but ah ! how I
am changed, how is my virtue faded, how such guilt filled my soul, while blushes
cover my face; sad reflections on my present state makes me meditate on the
future, which opens so tremendous a scene to my view.
" Now whither shall I fly to find relief? If I fly to my friends, who were
once all my comfort, they, bathed in tears, cry out? 'You have brought our
gray hairs with sorrow to the grave' If to get one moment's ease I wander in-
to the fields, every flower I see, seems to say? 'We are pure.' Thus is nature
armed against me, and on whose account ? I seem to be forsaken by heaven and
earth on your account, who strove to gain my affections and became master of
them, and now you triumph over me, laugh at me for trusting your honour,
and putting confidence in your word ! ( ) hypocrisy, how couldst thou wear so
winning a form ? Generosity, where art thou fled? Honour, hast thou for-
saken the human race ? look on my distress ! O my God, despise me not! O
my friends, pray for me ! my distressed parents forgive me ! then may the cold
grave receive me in its peaceful recesses, where my shame may be buried in
eternal oblivion. May you, in the hour of death, find consolation from your
God and Judge, which you have denied to your AGNES RAE."
You females all, both far and near,
Attend to what a friend doth say,
I'll make you weep my tale to hear,
For all my joy has fled away.
I was with education bless'd,
The best my friends could find,
They had me like a princess drest,
And nothing then disturb'd my mind
I was an only daughter dear,
My father's joy, my mother's pride,
And promised fair for many a year,
But oh alas ! my mother died.
When she upon her death-bed lay,
Her looks & words did pierce my heart,
Methinks she had much more to say,
Alas, her spirit did depart.
My father grieved his strength away,
Six months did close his mortal life.
This was to me a mournful day,
They laid him by his loving wife.
My uncles they my guardians were,
Also another of our friend ;
They kept me in great awe and fear,
Until I gain'd my wicked ends.
When sable night had clad us round,
And silent at the midnight hour,
A chance to escape then I found,
And gently clos'd the mansion door.
Where a young gentleman did wait,
My youthful heart he did trepan,
All at my father's garden gate,
He had his coach and waiting man.
He promised I his bride should be,
And nothing should control my will,
With every pleasure I could see,
I should enjoy me to my fill.
Allured by his beguiling tongue,
And arrayed in gay and rich attire,
Not thinking I was doing wrong,
Eloped with this gallant squire.
At length to him with child I prov'd,
He gave me language sharp and keen,
He hated me, who once he loved,
And never more by me was seen.
His servants turned me to the door,
Forlorn, disconsolate and distressed,
'Twas now I thought upon the poor,
When I had got no place of rest.
Along the purling stream I'd walk,
Thro' lonely groves and shady bowers,
No one I'd get with me to talk,
Or pass away the mourning hours.
[ hope, young maidens, you will hear,,
And give some thought to what I say,
To Pride Destruction's very near,
Let prudence guard your slip'ry way.
A flattering tongue always despise,
May virtue guide your steps aright,
Then to perfection may you rise,
In pleasure spend the day and night.
A blooming flower of twenty years,
Just in the prime of life should be;
My body to the grave they'll bear,
And not a tear be shed for me.
More I would say, but oh, the pain
Of death, I feel the mortal dart;
I hope in heaven my soul shall reign.
When death stops this beating heart.
She's clos'd her mortal scene below,
From grief and trouble she is free;
She's gone the road we all must go,
From time unto eternity.
Kirkwood, Printer.

Probable date of publication: 1830 shelfmark: F.3.a.13(39)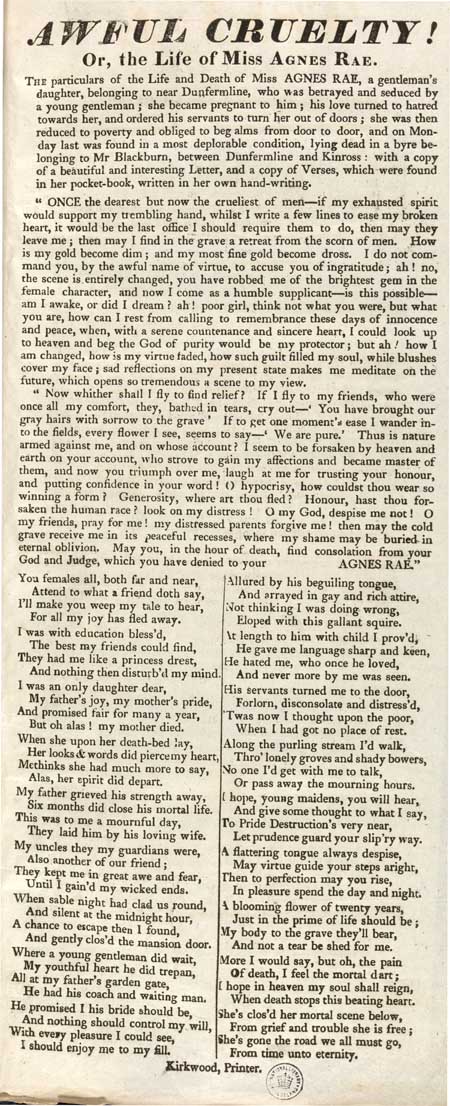 View larger image